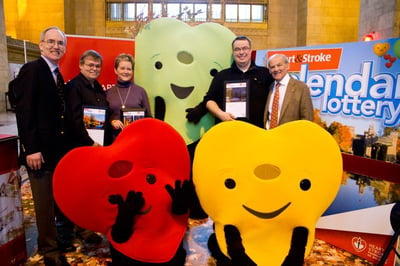 Charitable organization are truly amazing. They raise awareness for the many issues that we face in our world today, and work tirelessly trying to implement improvements and solutions.
For these organizations to succeed and reach their goals, they need funding. Depending on the structure of the charity, funding comes from fundraising, donations, sponsorships, and grants.
If your charitable organization needs to interact with your audience in a fun, light-hearted way, then a mascot might be right for your marketing efforts.
Mascots are the epitome of positive spirit. They can portray whatever personality you feel is representative of your organization, as well as promote any message you wish.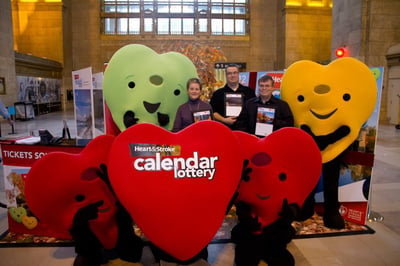 Let's look at the Heart and Stroke Calendar Lottery for example. This organization came to BAM Mascots requesting mascots to promote the Heart and Stroke Calendar Lottery.
We created 5 different heart mascot costumes, in red, yellow and green, each with a different smile. The mascots were based on the design of the happy hearts used in the promotional ads for the Heart and Stroke Calendar Lottery.
"Heart and Stroke Foundation has a critical priority of funding life saving research. Today 23 talented medical researchers in Ontario – among the very best in the world – are funded thanks to the generosity of Heart&Stroke Lottery supporters." - Heart & Stroke Foundation Lottery | Learn more
Mascots like these, help improve brand recognition for organizations because of the powerful visual association people create when they interact with them. 90% of all information that makes it to the brain is visual, so presenting your audience with a character that represents your brand, in colourful, real, movable, 3D - is a much stronger experience, and one that will instantly be more memorable.
Since charitable organizations typically hold community events to raise funds, as well as awareness, a mascot would be beneficial to mingle with supporters and interested groups. This is especially true when your organization is addressing a medical issue, and needs to break down barriers that might be a hindrance in getting your message across. While health related charities typically raise funds to find cures or treatment for diseases, their message is one of hope and health. A mascot creates a positive, fun experience and makes people smile.
Large or small, having your mascot represent your charitable organization at events adds to the entertainment value of the gathering. Whether you take your mascot to a community fair, parade, walk-a-thon, or specific fund raising banquet, a bright vibrant character is sure to please.
The popularity of your character may even give you ideas for fund raising, such as selling promotional items related to your mascot, or auctioning off a mascot party or home visit.
If your charitable organization is missing a mascot member on your team, let BAM Mascots help you fill that spot. We will work with you directly to create the perfect custom mascot costume. Your mascot will be unique, original, and engaging. Contact us for a no obligation quote and we will get started in creating your fun new mascot.
The BAM Mascots team blends creativity with manufacturing excellence to create an innovative, high-quality mascot for your school, sports team or organization. With more than 25 years experience in mascot design and manufacturing, and hundreds of mascots in our portfolio, the BAM team has the knowledge and skills to bring your dream mascot to life. Contact us today at 1-877-858-4226 to get started!
Sources:
Shift e-Learning | February 13, 2017