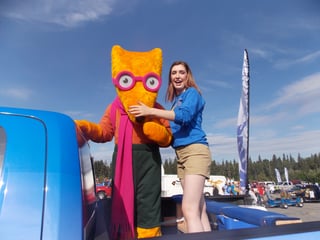 Involving your mascot in
local and community events
is a great way to attract publicity. Events such as parades, community picnics and fundraisers give you and your mascot the opportunity to
raise awareness
and spread your brand message.
Last month, the mascot we built for KUAC, Kitt the Fox, did just that - showing off his dance moves at the Golden Days Festival Grand Parade in Fairbanks, Alaska!

KUAC
connects Alaska to the world with radio and television programming that is thoughtful and honest. They pride themselves in bringing forward content that generates a larger discussion and increases awareness and understanding.
This year was the first time that Kitt participated in the Grande Parade, which is the largest parade in all of Alaska, held during the
Golden Days Festival
. The parade features 100 floats, a marching band, and individuals dressed in Gold Rush costumes.
The Golden Days Festival has been held since 1952 in celebration of Fairbanks' vibrant Gold Rush history.
It was in 1902 that Felix Pedro proclaimed, "There's gold in them there hills.", after discovering gold in the foothills outside town. Soon after the quiet town of Fairbanks Alaska became a bustling city.
Kitt is also a big part of
KUAC's Kids Club
, a year round membership program, that gives kids behind the scenes access to screening of upcoming shows. They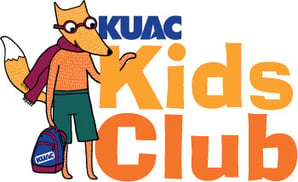 can participate in meet-and-greets with PBS Kids characters and Kitt the f
ox, and get exclusive access to multiple events every year.
In a recent letter, KUAC let us know that "The children LOVE Kitt!"
Kitt was even featured in his own a colouring booklet, created by Dona Brandle-Boylan, that illustrates his backstory. Kids learn about who Kitt is, how he spends his time and why he is working with KUAC and the Kids Club.
To find out about all of the other great benefits that come with a membership to the KUAC Kids Club, check out their
website
!
Looking for a mascot to represent your Brand, School, Team or Not-for-Profit Organization? We create
custom designed, high performance mascots
, that not only look great, but are ready to perform for years to come.