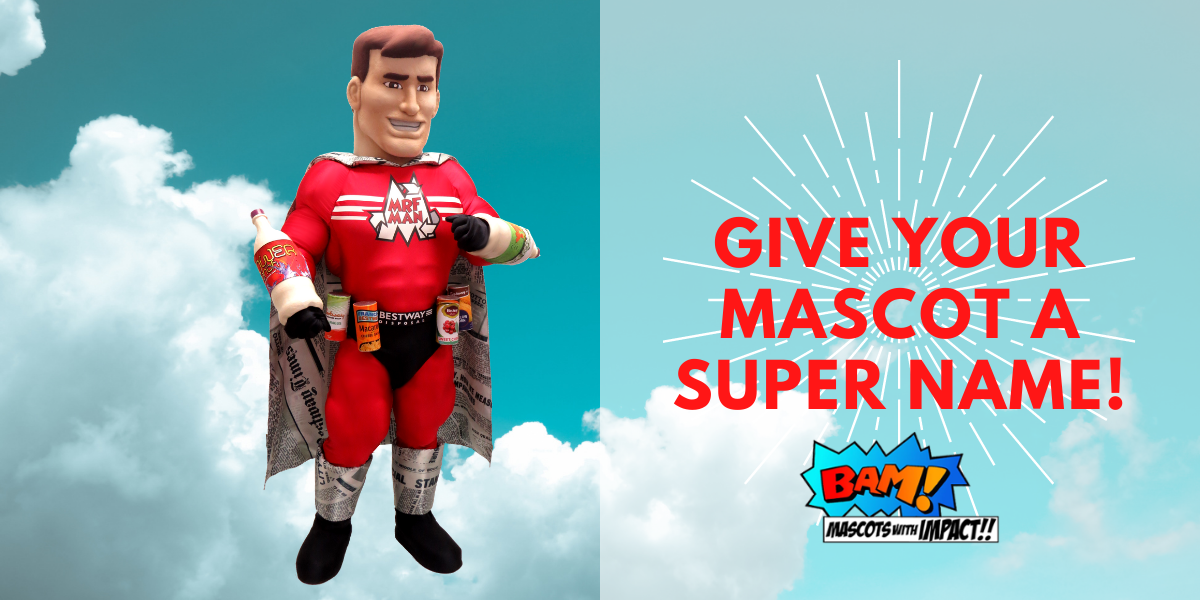 Are you in the middle of the exciting and enjoyable process of creating your mascot character? If so, you'll know full well just how many things there are to think about.
You need to find an expert to create a custom mascot costume, you need to develop your mascot's backstory and you need to start designing a mascot marketing strategy that engages your audience.
This can feel overwhelming at first, but breaking these tasks down and completing them one at a time makes it significantly easier. In this blog, BAM Mascots is going to talk about one incredibly important aspect of the mascot creation process - naming your mascot.
Why is a mascot name important?
Brand mascots are designed to increase brand awareness and create memorable experiences for your organization's audience. They do this by engaging with people at both in-person events and through online channels (such as social media or your company's website).
In turn, these mascot experiences improve customer loyalty, give you access to new revenue streams and enhance your organization's brand identity. Having a mascot name is just one of the many aspects of a strong mascot character that gives you access to these benefits.
A mascot name helps your audience connect to your mascot character, it ensures they remember your mascot and it creates a stronger bond between your brand and the people you are trying to engage.
Some tips for choosing your mascot's name
One of the most exciting aspects of creating your mascot is naming it, but it can also be one of the most difficult. Even after you have created your mascot's backstory and designed the costume, sometimes your mascot name doesn't quite roll off the tongue perfectly.
Thankfully, there are a few sources of inspiration that your organization can use to name your mascot. Here are a few tips and tricks to help you with the naming process:
#1 - Keep it simple
When naming their mascot, many organizations try to overcomplicate things. They believe they have to come up with a name that will draw an immediate reaction from their audience, whether it be laughter, amazement or inspiration. Sometimes the best answer, however, is to keep it simple.
The Michelin man by Michelin, the Kool-Aid Man by Kool-Aid or The Laughing Cow by... (you got it) The Laughing Cow are all examples of famous mascots with a simple name. By keeping your mascot name simple and including your brand name, you will ensure that your mascot is always associated with your brand - a powerful mascot marketing tool.
#2 - Take inspiration from your character design
Another great way to name your mascot is by taking inspiration from your character's design. Do you see the similarity between the famous mascots Jolly Green Giant by B&G Food, Mickey Mouse by The Walt Disney Company and Cornelius Rooster by Kellogg's Cornflakes?
All of their names describe exactly what the mascot costume design is. The act of explaining what your mascot costume design is in a condensed first name helps to bring your mascot character to life, bringing your mascot instantly to mind whenever the name is mentioned.
#3 - Make use of alliteration
Sometimes the best mascot names are the ones that roll the easiest off the tongue. There's no better way to achieve this than through alliteration. The use of alliteration is playful, fun and clever, but most importantly it's memorable.
That's why a large number of the world's most famous mascots use alliteration within their names, from Tony the Tiger by Kellog's Frosted Flakes to Chester Cheetah by Cheetos. These names are easy to say, and even easier to remember.
#4 - Run a competition
Do you want to start engaging your audience before your mascot costume has even been designed? Why not consider running a mascot naming competition, where your audience can start sending name suggestions based on your mascot's design plans and backstory.
Hosting a competition to name your mascot is a great way to get your audience excited for your new mascot launch, increase awareness of your brand, as well as generate ideas that will help you to name your mascot.
Do you have any further questions about naming your mascot? Contact BAM Mascots today. We have more than 25 years' experience in mascot design and manufacturing, with hundreds of mascots in our portfolio.