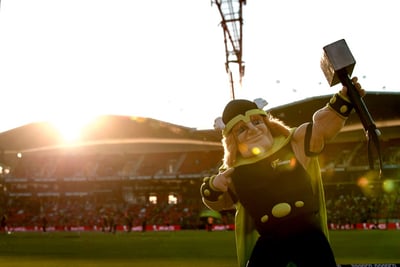 You've been thinking about it for a while, how beneficial a mascot would be to your organization. A mascot is a great marketing tool and can really help your brand stand out when compared to competitors. One of the next steps is to think about what type of mascot you'd like.
A custom mascot should be unique, capture attention and differentiate your brand. It can be based on an animal, a historic person, an object, a fantasy creature, anything you can conceptualize or draw. Here are some BAM Mascot tips for creating the perfect mascot costume for your organization.
1. Has your organization ever had a mascot?
This is a good first step to take before diving into different mascot ideas. Look back into the archives of your organization and check if there was a mascot in the past. If so, you could base the new mascot design on it, while modernizing to make it look contemporary. The choice for that older mascot might have been related to something important in your brand identity, so the type of mascot may have relevance today.
If your organization never had a mascot in the past, then you have a blue sky to imagine many ways to represent your organization. We can guide you through that process and make some recommendations to help you settle on a concept.
2. Who is your target audience?
This is a great question to ask yourself, or your team, before coming up with an idea for your custom mascot. You want to ensure that the mascot type is appropriate for who you want to attract and entertain. For example, if you are a public service organization helping families or children, then you'll want to appeal to that young audience by having a mascot that is easily recognized, approachable, and friendly looking. If your mascot is for a college football or hockey team, then you may want your mascot to look intimidating and super strong. Attendees at a commercial trade show will likely be drawn to a mascot that looks comic, nostalgic, and fun to engage with.
Having a mascot that your audience can easily relate to, or interact with, is the ultimate goal - which is why considering who your target market is, is a key step in the mascot creation process.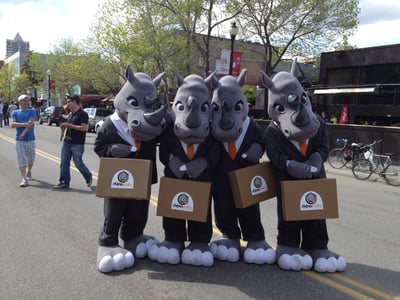 3. Inspiration is all around!
For more ideas, consider your larger community. Perhaps using one of your state/provincial symbols (state animal/bird or perhaps an animal, person or object which commonly comes to mind when thinking of your town or region) may work. For example, we have worked with several clients who used their region's most prevalent agricultural product (carrots, blueberries, etc.) as their mascot.
Your mascot can also be a tribute. We've built several mascots who were inspired by a departed pet of someone close to the organization, or were a tribute to a person who the organization wanted to honor.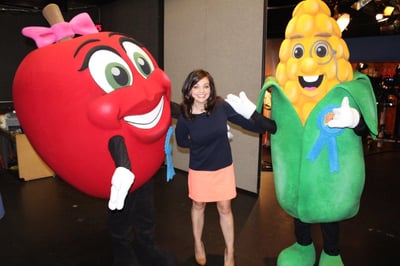 4. What do you need your mascot costume to be able to do?
If your character can be just about anything, the type of character may be narrowed down a little by the type of performance you would want from your mascot costume. If it will be used for meet-and-greet style performances only in a controlled setting, like a stage, then any design would work. If you anticipate having to move through busy crowds, however, you may want to avoid any characters with wings, long tails, and other such elements which may impede in moving around smoothly.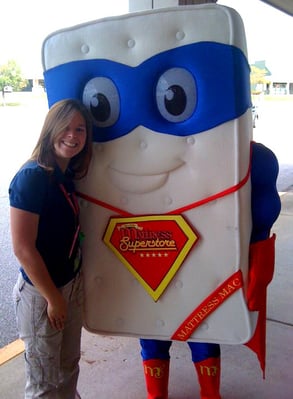 If you require a high degree of mobility from your mascot costume (big dance moves, running, climbing stairs quickly) you may want to avoid costumes where your arms are mostly inside the costume or where leg stride is limited (like object-themed costumes, for example).
5. What do others think?
Conduct a meeting and ask everyone to bring a concept idea to the table to present to the group. This is an ideal way of brainstorming different ideas if you are unsure of the type of mascot you want, or how you would like it to look. Compare the ideas and ask questions.
If your team is stuck, perhaps have an open discussion and review different mascot concepts that have been built for other organizations in the past. It helps to have some visuals, either hand-drawn or photos of similar mascot types. Our BAM photo galleries are a great way to find mascot types that you like.
You can even ask your target audience! Bring a few of your favorite ideas, and hold a vote through social media. This can help your audience adopt and identify with your new mascot faster.
6. Bring your idea(s) to BAM Mascots!
Whether you have a vague idea of what you want or a well rendered mascot drawing, we can help you arrive at the design used to create your mascot costume. At this point, you will be able to work with the designer to develop your mascot design idea into concept artwork.
The BAM Mascots team blends creativity with manufacturing excellence to create an innovative, high-quality mascot for your school, sports team or organization. With more than 25 years experience in mascot design and manufacturing, and hundreds of mascots in our portfolio, the BAM team has the knowledge and skills to bring your dream mascot to life. Contact us today at 1-877-858-4226 to get started!