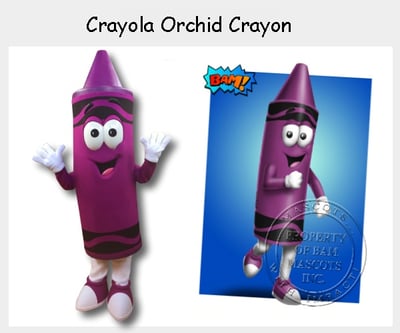 When you think of a global brand you might picture a logo or remember a slogan or song. You've probably readily identified a company within a few seconds of hearing a commercial theme music playing because of repetition in their advertising.
A core idea of branding is to make a company memorable and while music and imagery is used successfully by many big brands, some of the biggest consumer brands use a mascot to deliver an enhanced personal experience.
From schools, to sports teams and of course, big consumer brand companies, our custom mascot creations have become well-loved icons, entertaining and delighting audiences.
We enjoy working with every client, large and small, in creating their custom mascot. Each project is a creative opportunity to design something that well-represents a brand, and is exciting to interact with and watch perform.
Over the years we've had the opportunity to create some pretty amazing custom mascot costumes, for some well-known global brands.
Beats by Dr. Dre
Beats by Dr. Dre is an leading audio brand for music headphones and speakers. It was founded in 2006 by rapper Dr. Dre and record/film producer Jimmy Lovine. Beats became a hit with consumers because they offered a quality product to the marketplace, endorsed by a renowned music artist and producer. One of Beats' products, The Pill, is a small, compact speaker which works using bluetooth technology. Beats developed an animated character mascot to represent and promote the Pill speaker. We were excited to work with Beats to bring their animated Pill speaker character to life by designing and creating a custom mascot costume.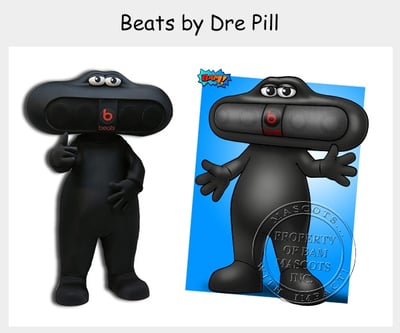 Pepsi
Pepsi is one of the many brands under the corporate name of PepsiCo. Pepsi, the cola drink, was first formulated in 1898 and remained its own company until its merger with Frito-Lay during the mid 1900's. Today, Pepsi is a household name world-wide. BAM was given the opportunity to create a custom Pepsi mascot costume for this global brand. The mascot resembles the classic blue Pepsi can with muscular arms and cool sunglasses.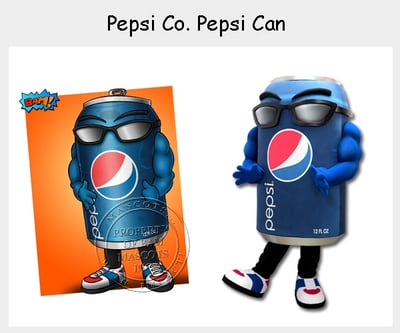 Ben & Jerry's
Ben & Jerry's, the ice-cream company known for a variety of unique flavours, started off as a small local shop, in Burlington Vermont in in 1978. They've come a long way since then, and are now a widely recognized brand for premium ice cream across North America. We were delighted to work with Ben & Jerry's to create their cow mascot costume, a friendly depiction of the cow character used on their print advertising.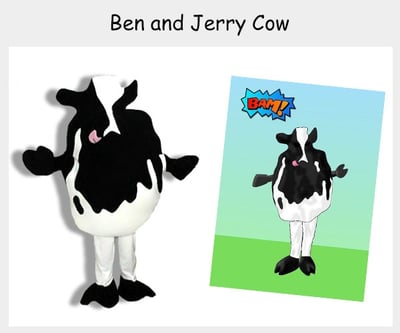 The Laughing Cow
Another popular and recognizable animal in the food industry is The Laughing Cow. The Laughing Cow spreadable cheese has been produced in Kentucky since 1975 and is now a part of Bel Brands USA, producer of Mini BabyBel. The Laughing Cow character can be seen as a graphic cartoon in a majority of The Laughing Cow advertising commercials. The company wanted a mascot costume to resemble the beloved red Laughing Cow to use at consumer events. BAM Mascots created a mascot costume that really brought the Laughing Cow to life, and create a fabulous brand asset for interacting with fans.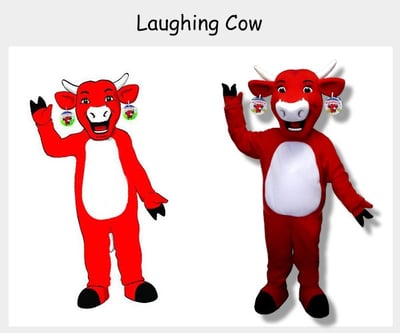 Crayola
Crayola has been a household name for over a century now. The first wax crayons were created in 1903 by Edwin Binney and C. Harold Smith. The name "Crayola" came from Edwin Binney's wife. She had used the French word "craise", meaning chalk, and "ola", which came from the word "oleaginous". Starting out with only 8 colours, Crayola now has a multitude of iconic products marketed around the world. Crayola chose BAM Mascots to create custom mascots for their original product, the wax crayon. Children respond with delight when they see these colourful crayons at Crayola events.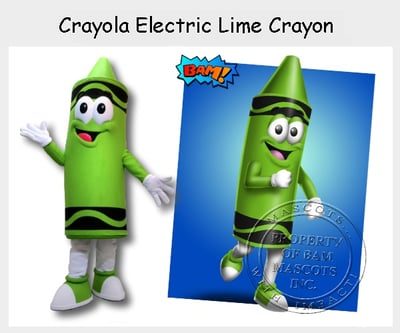 No matter the size of the company or organization (big brands or start-ups!), we would love to help you create your brand's custom mascot costume. Please feel free to contact us! We would love to hear about your idea for a mascot and provide you with a complimentary quote.
The BAM Mascots team blends creativity with manufacturing excellence to create an innovative, high-quality mascot for your school, sports team or organization. With more than 25 years experience in mascot design and manufacturing, and hundreds of mascots in our portfolio, the BAM team has the knowledge and skills to bring your dream mascot to life. Contact us today at 1-877-858-4226 to get started!