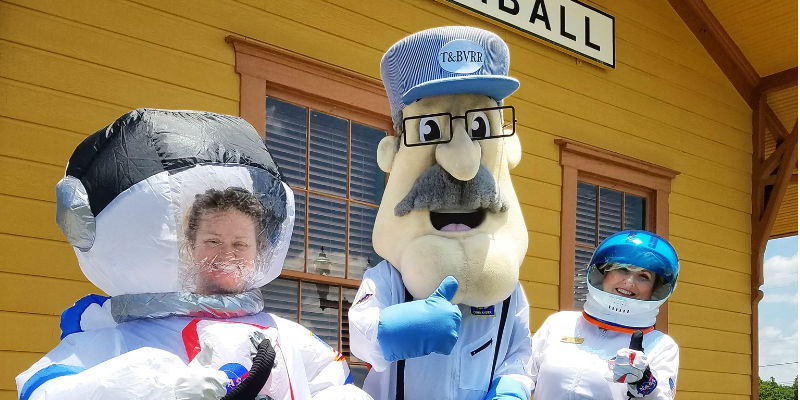 Rusty Rails, the official custom mascot for the city of Tomball in Texas, has won the award for the 'Best Festival Mascot' at the Texas Festivals and Events Association for the seventh time in eight years.
The Texas Festivals and Events Association is an annual conference - which was held last month in McAllen, Texas - that celebrates the history, legends, culture, art, folklore and natural beauty of the Lone Star State.
The town of Tomball hosted their very own mascot workshop at the event, where Rusty Rails was on hand for an up-close and personal demonstration of a high-quality mascot costume.
Thirty members of the 257 registered delegates attended the hour-long session, learning about how mascots are made and why mascot marketing can play a hugely important role in any organization's marketing strategy.
The ventilation system designed inside the head of Rusty Rail's costume was a hot topic. Audience members were amazed at just how good of a job it was doing to keep the mascot performer comfortable - and even tried the head on themselves.
Tomball held a one-hour long presentation at the event, covering subjects such as:
Who is Rusty Rails?
Rusty Rails was created to promote the city of Tomball, and to be used as a tool to educate the city's younger residents about its history. He was also introduced as part of an effort to increase the city's tourism appeal to people from both the Houston area and beyond.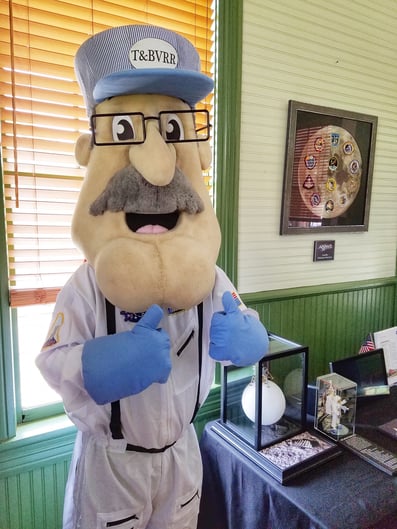 Since Rusty Rails was first introduced as the face of the city's tourism and festivals program in 2012, the seven-foot-tall railroad engineer has become the visual image of Tomball.
Designed by BAM Mascots, Rusty Rails was designed as a railroad engineer as a nod to Tomball's long history as a railroad town. The result? Rusty Rails is now symbolic of Tomball's longtime association with the railroad and its prosperity as a railroad town since the early 1900s.
Rusty Rails can even change his outfit. With a few props, such as a custom-made 50-gallon cowboy hat, chaps, vest and other western wear, Rusty is able to become his identical twin cowboy cousin - Dusty Trails.
This means Rusty, or we should say Dusty, is able to attend Tomball's Texas-themed events such as the Tomball Texas Music Festival and Sam Houston Trail Ride Reception.
Rusty's name was decided on through a contest held by the city. After receiving several hundred entries, the city chose an entry submitted by a third grader named Courtney who was inspired by her dog.
What is Tomball's history?
Located along the crossroads of State Highway 249 and Farm to Market Road 2920 in North Harris Country, 28 miles from downtown Houston, Tomball initially started out as a railroad town and later as an oil town.
The town was named in honour of State Senator Thomas Henry Ball in 1907, due to his influence in establishing Tomball as a railroad center for the transport of agricultural products.
Later in 1933, an oil boom hit Tomball when a 100 ft gusher was brought in, attracting hundreds of new residents. Local residents then received free natural gas for over 50 years in exchange for exclusive right by Humble Oil and Gas to drill within the city.
Today Tomball is within the rapidly growing Northwest and North quadrant that has a strong economic base.
Want to design your very own custom mascot, but not sure how? Contact Bam Mascots today. We have more than 35 years' experience in the creation of high-quality, durable, professional mascot costumes that will transform your brand's marketing strategy.