BAM! Mascots may be based out of Canada, but that isn't the only place you will find one of our mascots!
We have been lucky to work with businesses, schools, teams and organizations all over the world. From our home base in Ontario, Canada to the United States and all the way to Asia and Australia, you can see high-quality mascots made by our amazing designers.
The 2017 Summer Games Mascot in Canada
We have created numerous mascots for Canadian clients but one that stands out is Niibin, the 2017 Canada Summer Games Mascot.
You may have already read about him in our blog about the Summer Games, but if you haven't, here is an overview.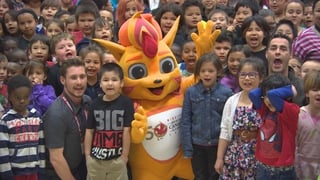 Niibin is an important part of the community relations program for the 2017 Canada Summer Games. Participating at a number of community events and festivals, as well as appearing at schools across the country, Niibin's goal is to get everyone involved with Canada's largest multi-sport event for young athletes. (blog link)
The USA Volleyball Mascot in the United States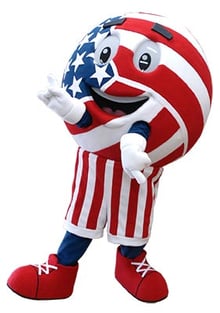 We've also created thousands of mascots for US customers. Here is one we wanted to showcase.
A not-for-profit organization, USA Volleyball is the national governing body for volleyball in the US and is responsible for selecting and supporting national teams that will compete in international volleyball and beach volleyball competitions, including the Summer Olympic Games.
Their red, white and blue volleyball mascot plays a huge role in getting fans involved and raising the energy level of crowds during games and events!
International School Yangon Mascot in Asia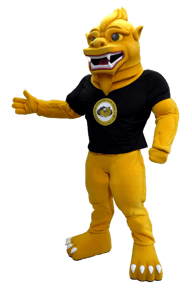 We've also had the pleasure of working with some amazing clients across oceans, and here is a colourful example from Southeast Asia.
The International School Yangon, located in Yangon, Myanmar, in Southeast Asia teaches an American curriculum, and promotes responsibility and respect through a nurturing learning environment. There are two separate schools associated with The International School Yangon, an elementary school, which began in 1955, and the high school which was founded in 1976.
Their mascot is Chinthe, a mythical creature of Myanmar (Burma), Asia.
Chinthe participates in school events and raises awareness about the International School of Yangon. Students, staff and family members all enjoy interacting with Chinthe. (blog link)
The John Cabot University in Italy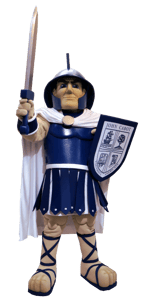 Combining the best qualities of an American liberal arts college with the history and culture of Rome, John Cabot University offer 13 different degree programs to students from all over the world.
The Gladiator Mascot was created as a way to represent their students, athletes and faculty during school events and games.
When designing this mascot, we not only incorporated the school colours, but also their school crest which adorns the mascots shield!
The Sydney Thunder Mascot in Australia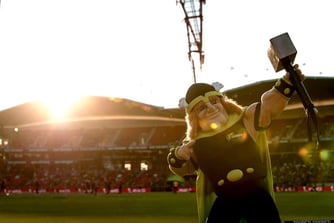 Playing out of the Sydney Showground Stadium, the Australian Cricket team, Sydney Thunder prides themselves by being an example of excellence, dedication and inclusion both in their community and on the field.
Their Thor-like Mascot is in charge of pumping up the crowds during games and interacting with kids and fans at team events.
The Al-Ittihad Football Club Mascot in Saudi Arabia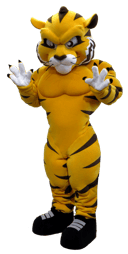 Formed in 1927, the Al-Ittihad Football Club is the oldest club in Saudi Arabia. They have won 8 league titles and 36 official championship wins.
Their tiger mascot was created to help engage fans during football (soccer) games at their home stadium which holds over 60,000 people.
Wherever you are located, we can design a custom-made mascot for your organization. Our process involves exchanging information online or by phone, and everything we created is professionally packaged and shipped. Do you want to join our ranks of our many international clients? Contact us today, and let's talk about your perfect mascot.