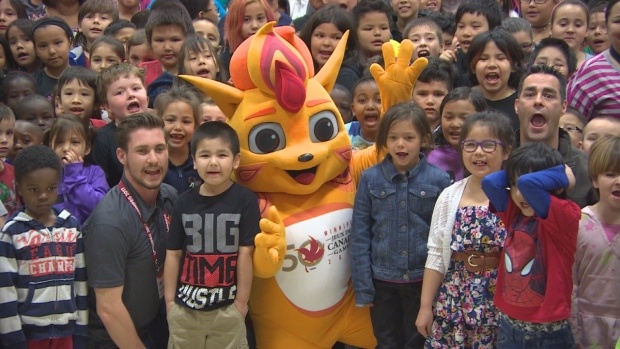 BAM Mascots was delighted to create a custom mascot for the 2017 Canada Games, taking place in Manitoba next year. The mascot was unveiled last month at a Winnipeg school, with a crowd of over 250 eager and excited students getting the first peek.
The mascot is an important part of the community relations program for the
Summer Games
. Niibin the mascot will be participating at a number of community events, festivals, and appearing at schools to get kids involved. The Summer Games are Canada's largest multi-sport event for young athletes. Next year, the Summer Games will celebrate their 50th anniversary!
Naming Contest
To get children engaged in a fun activity from the beginning, a naming contest was held for the mascot character. Over 530 school classes participated, with many students submitting interesting and creative names to suit this colorful character. Once the final entries were selected, public voting took place on social media to determine the winner. Using social media to engage an audience, by running a mascot-naming contest, was a great idea!
Winnipeg Grade 3 student Taylor Schepp came up with the winning name. Taylor submitted the name Niibin ( pronounced NEE-BIN), the Anishinaabe word for "summer is here". As the winner of the 2017 Canada Summer Games Mascot Naming Challenge, Taylor will be an official torchbearer in the Torch Relay, and will also get a special visit with Niibin.
How Niibin Will Help Canada Games Community Engagement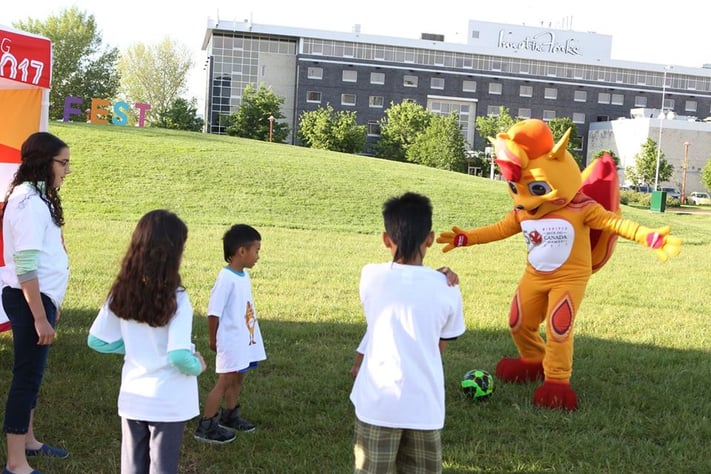 The flames on the Niibin's body are meant to represent the Canada Games cauldron and show unity in sport. Niibin has a joyful personality, loves to dance, go on adventures, play sports, and loves the summer. The backstory connects with families, and gets children interested in being active.
Jeff Hnatiuk, President and CEO of the
2017 Canada Summer Games
Host Society, says, "We are now looking forward to having Niibin on our team as we build excitement for the Games over the next 15 months."
The Canada Games mascot program is presented by Doctors Manitoba in association with the Fit Kids Healthy Kids program. Mascots are a great way to get children involved in activities such as sports, health & fitness, and their local community.
Niibin will be used in advertisements, ceremonies, games celebrations, and community and games related marketing activities to help promote the event.
We look forward to the 2017 Canada Summer Games, and to seeing Niibin in the related media coverage leading up to and during the event!
If your community organization is looking for a way to reach out and connect with an audience, consider a custom mascot to promote your brand and add entertainment value to events.
The
BAM
Mascots team blends creativity with manufacturing excellence to create an innovative, high-quality mascot for your
school
,
team
or
organization
. With more than 25 years experience in mascot design and manufacturing, and hundreds of mascots in our portfolio, the
BAM
team has the knowledge and skills to bring your dream mascot to life.
Contact us
today at
1-877-858-4226
to get started!