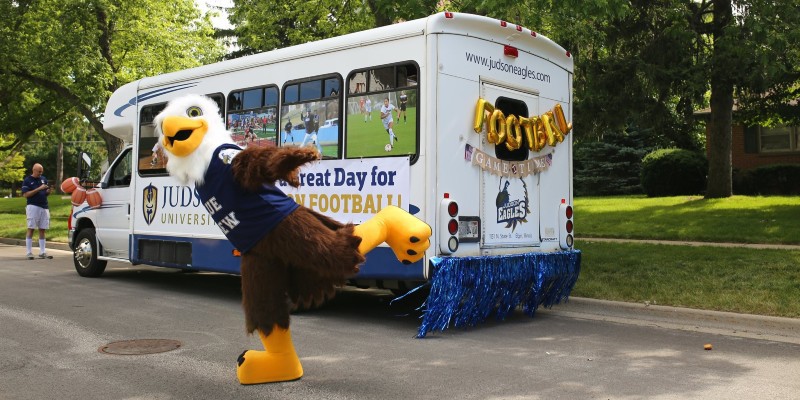 Do you remember Judson University Athletics's brand-new custom mascot which we wrote about in a blog post last year? The university has just announced an exciting new opportunity that will see their next mascot performer receive a scholarship.
Judson University is now officially looking for someone with mascot experience to be the next AJ Eagle.
The university, which is located in the Chicago metropolitan area (Chicagoland), will provide scholarship money to the student who is chosen to perform inside the mascot costume. They are seeking a student who has prior experience as a mascot performer to join the team.
Who is AJ Eagle?
Judson University has a long history of using an eagle as a mascot, and the university's president Dr Gene Crume has extensive experience and research on the benefits of mascots after working at Disney World as well as being the Mascot Advisor for Western Kentucky's mascot, Big Red.
It's for this reason that AJ Eagle was created. AJ was officially launched by the university last year and is an updated version of their previous eagle mascot which had become outdated.
AJ Eagle was designed to capture the fun, friendly feel of the Judson community, as well as showcase how serious the Judson University Athletics team takes competition. The new mascot performer is expected to share those same traits.
Are you interested in becoming the next AJ Eagle? Contact Bonnie Bienert, Executive Director of Judson University's Spirit Squad at 1-847-628-2087 or bbienert@JudsonU.edu.
The scholarship opportunity comes shortly after Judson University was recognized in three US News & World Report annual Best Colleges Guidebook categories. The university was listed:
number 72 overall among Midwest Regional Universities;
number 45 in "Top Performers on Social Mobility";
and, most notably, number 17 for having "an especially strong commitment to undergraduate teaching."
Are you looking for some mascot performer tips?
If you're interested in becoming a mascot performer, or simply want to advise your organization's mascot performer on how to improve, there are some best practices and rules for you to keep in mind.
These include:
Don't speak - Mascot performers should never speak because firstly, performing and talking at the same time is difficult, and, secondly, to retain consistency if multiple people are performing as the mascot.
Prepare performance gestures - Actions are how you communicate with your audience as a mascot. Create some on-brand gestures that you can use before you go out and perform as a mascot for the first time.
Wear comfortable clothes underneath - It's likely, as a performer, you will be inside a mascot costume for long periods of time. While mascot costumes are made incredibly comfortable today, it's still important for your comfort that you wear casual clothing underneath the costume.
Take regular breaks - Mascot performing, especially for a sports team like AJ Eagle, is high-action and demanding. Make sure during your performance you take regular breaks and stay hydrated. This will keep your energy levels up and help you perform at your optimum level.
For more mascot performing tips, or to simply enquire about the design of your organization's very own brand mascot, contact BAM Mascots today. Our team of mascot designers would love to answer any questions that you may have.