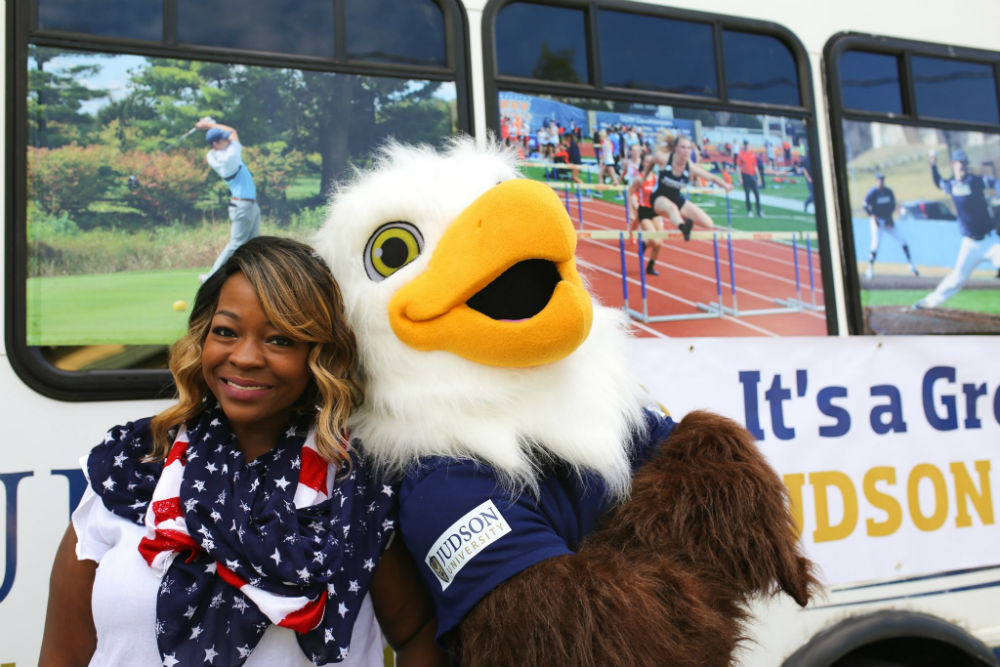 Judson University Athletics has officially announced the launch of its brand new custom mascot, which will bring extra excitement to the university's sports teams and events.
Named AJ Eagle, the new mascot is an update of Judson University's previous mascot that the university believed had become worn and dated. While the university's mascot has always been an eagle, their previous mascot no longer reflected the exciting campus of Judson.
For that reason, AJ was designed to capture the fun, friendly feel of the Judson community.
However, AJ goes one step further than just being a friendly face. The mascot was designed to specifically make it clear that Judson University Athletics takes competition seriously and to expand the 'Judson Spirit' both on and off campus.
AJ Eagle made his debut at the Elgin community parade on July 4, where 15,000 spectators were excited to see the new mascot in action.
Why was the design of AJ so important for Judson University Athletics?
Judson University has a long history of using an eagle as a mascot, and the university's current President has only consolidated the importance of having a mascot even further.
In fact, the university's President, Dr. Gene Crume, has a wide range of experience - including working at Disney World (Mickey Mouse is one of the most famous mascots in the world!) and serving as the Mascot Advisor for Western Kentucky's mascot, Big Red.
Dr Gene Crume's fascination with mascots has led him to extensive research on the psychology of brand mascots. This research has only helped solidify just how important it was to create a new, world-class mascot when it came recreating AJ Eagle.
Season of cheer
The launch of the brand-new AJ Eagle coincides with some exciting news for Judson University Athletics. This fall, football will come to the university for the first time in its 56-year history.
The Judson University football program was voted into the Mid-States Football Association (MSFA) as the sixteenth member of the conference beginning on August 1, 2019. The Eagles will compete in a league schedule beginning in 2021.
AJ Eagle will lead the charge on campus, helping to garner excitement for Judson University's new football program as well as the university's other sports teams.
Have you considered your very own sports mascot?
Is your sports team considering the creation of a brand-new custom mascot? That's fantastic news!
Custom sports mascots play a huge role in promoting your sports team and building excitement around the games and events you host. In fact, the power of mascot marketing can:
increase audience and fan engagement;
give your sports team additional revenue streams;
promote your sports team's message and identity;
increase media exposure;
encourage a family-friendly environment;
and much more!
Want to learn more about the benefits of a sports mascot, or simply want more information about how BAM Mascots can create a mascot that fits perfectly with your sports team's philosophy? Contact us today.