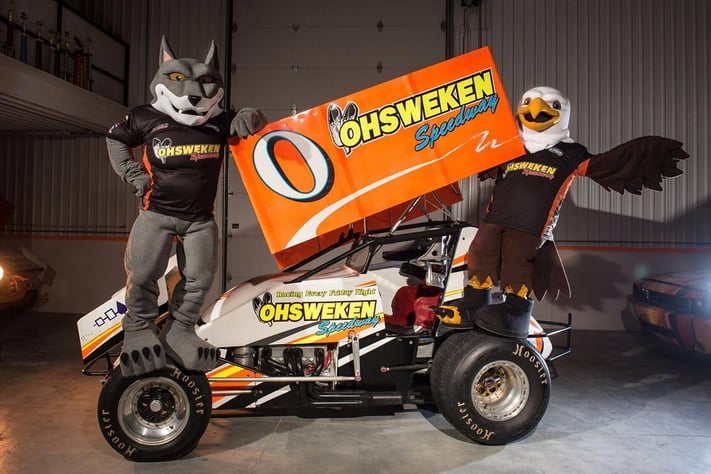 Mascots are a huge hit with all audiences, but hold a special magic for kids. That's why Ohsweken Speedway approached BAM about creating two unique mascots, Fang and Claw, to incorporate into their youth programs.
Located in Ontario,
Ohsweken Speedway
was founded in 1996 and is a motorsports complex featuring a 3/8-mile dirt track.
Ohsweken Speedway is most widely known for their Friday Night Racing Program that runs from May to September. This events features 360 Sprint Cars, Crate Sprint Cars, Thunder Stocks, Mini Stocks, and Bombers. They're also known for the annual Canadian Sprint Car Nationals, held at the end of the season each year, as well as weekly Micro Sprint racing on Thursday nights. Ohsweken has been a yearly stop on the World of Outlaws Sprint Car series schedule since 2007.
Ohsweken Speedway has two main programs designed to get kids involved in the sport.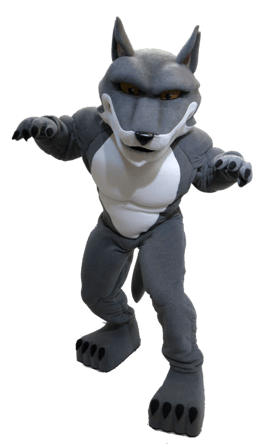 Ohsweken Speedway Kids Club
For $20, kids 12 and under get FREE admission to Friday night events during the 2017 season, as well as pre-race activities including pit area tours, driver meet and greets, tire races and much more. Membership also comes with a souvenir t-shirt, membership card and other fun perks during the 2017 season.
Ohsweken Speedway School Fundraising Program
The School Fundraising Program is targeted at students and gives them the opportunity to raise money for their schools by selling Speedway tickets to friends, family and community members at a discounted price. A portion of the proceeds then go towards breakfast programs, field trips, classroom supplies and lots of other great in-school initiatives.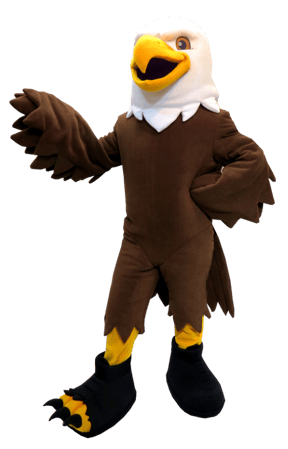 Staying in Touch with Us
Earlier this month, Ohsweken Speedway gave us an update on Fang and Claw.
"Hey there,
I just wanted to give you a bit of an update on our mascots and how they are doing.
We have incorporated them into our student fundraising program and they have been a major hit with the students.
Please feel free to use these pictures in any of your advertisements or promotional material.
We are very happy with them and appreciate all your hard work! "
Fang and Claw are Social Animals
Since launching their mascots, Ohsweken Speedway has been full throttle on using Fang and Claw in their programs. They appear on posters, membership info, and even have their own social media accounts. The
Speedway Kid's Club Facebook page
shares pictures of Fang and Claw, and each mascot has its own Twitter account:
@bigofang
,
@bigoclaw
.
Mascots are an excellent way to encourage students and children to get involved with their community and various programs. Mascots are high energy and have fun personalities that make even the shyest of kids want to get involved!
If you are looking to promote a program or event with the aim of engaging students and children,
contact us today
! We'll help you create the perfect mascot for your brand or organization!
The BAM Mascots team blends creativity with manufacturing excellence to create an innovative, high-quality mascot for your
school
,
sports team
or
organization
. With more than 25 years experience in mascot design and manufacturing, and hundreds of mascots in our portfolio, the BAM team has the knowledge and skills to bring your dream mascot to life.
Contact us
today at
1-877-858-4226
to get started!