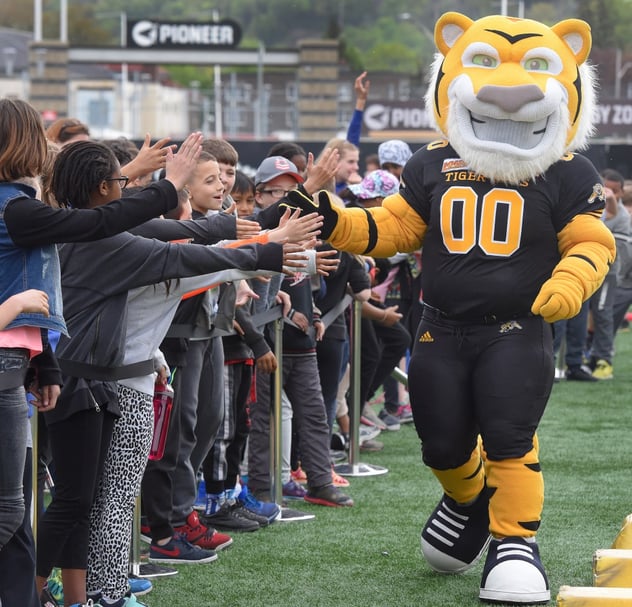 In 2015, we announced the launch of
Stripes
, the refreshed
Hamilton Tiger-Cats
mascot
for the professional football franchise. Since then, Stripes has been a big part of getting fans involved at CFL games and events!
Stripes now has his own club – the Stripes' Cub Club! Geared towards younger Tiger-Cats fans, this is the third year that the Cub Club has been in operation. The Club offers exclusive benefits such as prizes, discounts and an invitation to Stripes' birthday party!
But that isn't the only way Stripes is getting involved in the fan community! Just this year, Stripes and his team headed to Regina Mundi Catholic Elementary School to launch their
2017 BeFit Program
!
Since 2010, the Hamilton Tiger-Cats have played a huge role in promoting the importance of a healthy and active lifestyle at local schools and community centres. The BeFit Program is focused on teaching kids about the benefits of eating properly and exercising regularly. The Tiger-Cats, along with their mascot Stripes, conduct high-energy presentations that get kids moving and thinking about a healthy lifestyle.
This year is especially important as the Tiger-Cats launched a new initiative tied to their healthy living message –
BeFit Day
!
BeFit Day was hosted by Tiger-Cats in partnership with Summer Fresh, at the Tim Horton's Field during one of their pre-season games. Kids were invited to take part in interactive programming led by players, cheerleaders and their popular mascot Stripes!
And just recently, the Hamilton Tiger-Cats and have announced that they will be making game days even more exciting for younger fans with:
Families on the Field – Children under 12 will be invited on the football field with their families at the conclusion of the game, to toss around a football, explore the experience, or take some end-zone photos.
Stripes' Jungle – the newest addition to the Findlay Family Zone, Stripes' Jungle is a 2,000 sq. ft. Ticats themed playground, that includes mascot appearances and a children's menu.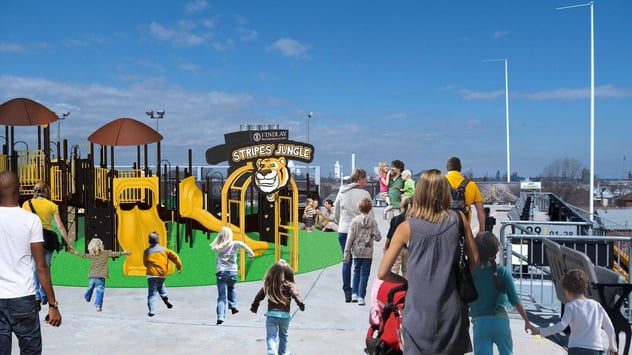 The Hamilton Tiger-Cats have done a great job promoting their brand and message to a younger audience and Stripes has been a big part of it! This high-spirited, animated mascot works with his whole team to get kids involved and make these amazing programs memorable.
Do you want to see Stripes in action? Find out how to cheer like a pro mascot, in Stripe's video below. Or head to one of the Hamilton Tiger-Cats home games and join in the fun!