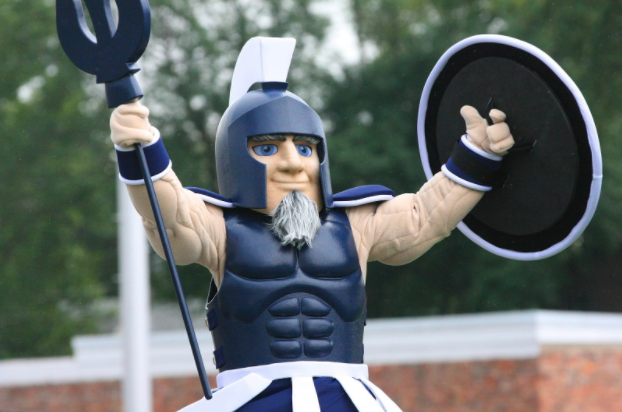 Through your mascot marketing strategy, your organization's custom mascot will become synonymous with your brand. The use of your mascot on your brand logo, in attendance at events, on your social media platforms and in customer communication will all lead to your mascot becoming the face of your brand.
That's great. A successful mascot marketing strategy will lead to:
A stronger brand identity
Improved audience engagement
Better digital reach
A competitive advantage
New revenue channels
Promotion of your brand's message, values and story
Increased media exposure
And much more
There is, however, one thing you should keep in mind. Since your mascot is the face of your company, anything your mascot does will help build up an image of your brand in your audience's mind.
If your mascot goes viral, so does your business. If your mascot does a good deed, so does your business. If your mascot makes a mistake… so does your business.
As part of a successful mascot marketing strategy, it's no longer enough to just let your mascot performer wing it. Your performer should have clear guidelines of exactly how they should perform, exactly what it means to be inside the costume and what it takes to represent your entire brand.
That's why here at BAM Mascots we have created a guide to creating a mascot code of conduct. Here's what to include:
INTRODUCTION
At the start of your mascot manual, it's important to lay out your mascot marketing strategy and some brief information about the mascot itself. This should include what you hope to achieve through using the mascot, what the mascot's personality is and what events the mascot is expected to appear at.
This will set clear expectations for your mascot performer on how they should perform, act and engage with customers while wearing the mascot costume.
ROLES AND RESPONSIBILITIES
Responsibilities
What exactly will your mascot be used for, how will they greet and engage with fans, what's their personality and what is expected of them during events? Here you should lay out the exact responsibilities of your mascot when at events. This will include how they are expected to act, what they are expected to do at events (e.g. fan photos), and the requirements needed to be a successful performer in the costume.
Performance guidelines
Your mascot is responsible for successfully engaging your brand's audience, driving brand awareness and building excitement. To do so, they need to be fully prepared for each event that they attend and have clear expectations of what they are expected to do during their performances. Will it be simple meet and greets, or do they need to learn a 30-minute choreographed dance performance?
Have some signature performance gestures ready for your mascot performer. This will help you showcase the personality of your mascot in the manual, and give your performer some basic moves to work with. These could include anything from a simple thumbs up, a custom dance move, a fist pump, a bow or a range of other moves.
SAFETY STANDARDS
Not only is the safety of your audience members a priority, it's also crucial that you limit the opportunity for injury to your mascot performer. That's why it's important to create a safety standard that ensures that both your mascot performer, and the people around them, are safe during a performance.
Performer safety
This section of the mascot manual will give a clear guideline to performers on how they can stay safe whilst wearing the mascot costume. This could include anything from how the costume limits movement, why it's important to take regular breaks and drink water to stay hydrated, not performing moves they haven't trained for and what safety precautions they should think about.
Safety of others
It's not just the safety of performers you should outline either. Include guidelines on how to ensure the safety of audience members too, such as having a member of staff to escort you during your performance to ensure parts of your mascot costume do not harm anyone in your audience.
Alcohol and drugs
Your mascot is the face of your brand, and you don't want your mascot performer to ruin that through poor behaviour. Make sure you have a clear section in your mascot manual about how your company does not accept, under any circumstances, alcohol or drug use by your mascot performer.
Some rules in this section could include;
not smoking in or near the costume;
mascot performers cannot wear the costume while hungover or intoxicated;
and mascot performers are forbidden from handling alcohol containers while in costume.
SOCIAL MEDIA POLICY
Social media helps to maximize the results of your mascot marketing strategy and ensures that your company is able to reach the full potential of its audience. Posting on social media is an incredible way to drive brand recognition, increase sales and improve fan engagement.
At the same time, poor social media postings could damage your reputation. That's why it's crucial your mascot manual has a clear code of conduct on what should be posted on social media for your mascot, how frequently to post and what to avoid. This should include:
Which social media platforms to use
What style of content should be posted
What should be avoided when posting
How fast should you respond to questions and comments
What are your social media guidelines? Will you delete rude comments?
CONFLICTS OF INTEREST
Accepting gifts and money
This will help clarify with your mascot performer whether they are allowed to accept gifts or money, and, if so, under what circumstances. We believe the safest route is to make sure it's clear that your mascot performers are not allowed to accept money or gifts of any significant value.
Political and religious activities
If your mascot represents a religious or political organization, then your mascot marketing strategy will be conveying a particular religious or political message. If your organization is not religious, however, you should have clear guidelines on religious and political messages. In most cases, you'll probably want your mascot marketing strategy to steer clear from religious and political messages and events, as they can often be controversial subjects that may divide your audience.
MASCOT COSTUME CARE
To protect your mascot costume from damage and to ensure your company gets the most out of its investment, it's highly important that your mascot performer, and anyone else handling the costumes, knows how to look after it properly.
Storing the mascot costume
After each performance you should make sure that your mascot costume is clean from anything that could potentially stain or damage the fabric whilst in storage. Avoid this by cleaning the costume after each performance. Use a dry cloth to wipe the interior of your mascot and wick away any perspiration that occurred during an event, and then take the mascot costume for a professional cleaning.
Cleaning the mascot costume
Mascot costumes should be stored in a clean and dry environment. In fact, subjecting a costume to extreme temperature changes and moisture will damage the material and cause mould and mildew. Make sure your mascot is dry before storing, and inspect it for any damage before putting it away - otherwise you might get a surprise before your next performance.
Repairing the mascot costume
Did you find damage on your mascot after a performance? Don't just throw it in storage and forget about it until you need the costume again. A small break or tear in a mascot costume will only get worse if you don't repair it immediately. If you see damage, reach out to your mascot designer and learn how to get it fixed.
Interested in learning more about creating a mascot for your organization? Contact BAM Mascots today. We would love to answer any questions that you may have.