Being a mascot is fun, and most performers find it very rewarding, but if the performance is energetic, it can also seem like a work-out. One of the best ways to make your mascot performer's job easier is to have them dress appropriately for each performance.
Whether clothes are provided to the performer, or the performer buys their own apparel, the following tips will help ensure they stay comfortable while wearing the mascot costume.
Dress for the Weather and The Performance
Getting ready for an outdoor summer performance? Planning on running, flipping and jumping to pump up the audience, or spending the day walking through crowds? If so, we recommend light weight clothing that wicks away moisture, as the best choice for a 'mascot in action'.
Performance work-out clothing will help keep your performer cool and comfortable, and it will make movement easier. Bulky clothing like jeans can not only heat up your performer, but make it hard to be active by constricting movement within the costume.
If, on the other hand, your mascot is standing still for a long time in cooler weather, bulky might be a better choice. Opt for warm clothing that you find comfortable – such as performance gear with thermal properties. Base layer leggings and undershirts that are used by cold weather athletes for sports like skiing, hockey or football, are constructed to keep heat in but not retain moisture. They are also designed for comfort and maximum range of motion, so are a great choice for your mascot performer.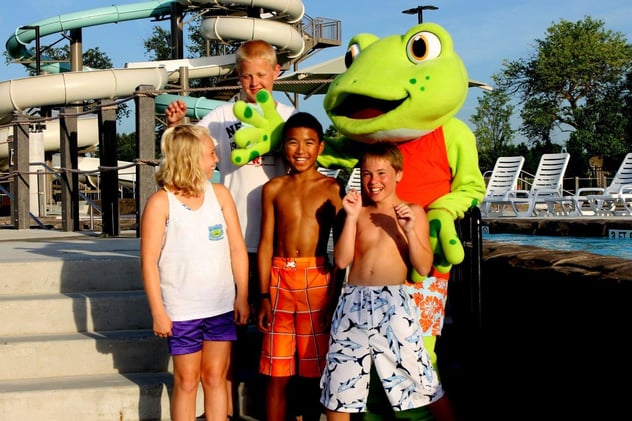 Use Sweat Bands
It can get warm inside a mascot costume, and when you get warm sweat can run into your face and eyes. It's awkward, uncomfortable, and if your vision becomes impaired it could be dangerous.
Keep a supply of sweat bands in your mascot gear bag. Sweat bands, like those worn by tennis players, will wick away the moisture before it becomes an issue. When your performance heats up, your performer will stay in for the duration.
Try A Cooling Vest
The ideal cooling tool - a cooling vest is specially designed to keep performers feeling refreshed. The vest is equipped with pockets for cold gel packs, like the ones used for first aid or in sports. Swap out the gel packs when they lose their cool, to keep your mascot comfortable during the entire performance.
Avoid vests with packs that must be frozen; being able to quickly charge your cool packs in a small ice chest will allow your mascot to take a short break while the packs solidify.
Test It Out Before the Event
Before the main event, it's a good idea to practice the performance with all the base layer clothing under the costume. The dress rehearsal will make sure your performer is entirely comfortable going through the routine, and will identify any problems before the big day.
Your mascot's performance will be enhanced by your entertainer's comfort. By taking the time to find the right clothing, you can ensure that nothing will be standing in the way of a high-energy mascot show that delights everyone.


The BAM Mascots team blends creativity with manufacturing excellence to create an innovative, high-quality mascot for your school, sports team or organization. With more than 25 years experience in mascot design and manufacturing, and hundreds of mascots in our portfolio, the BAM team has the knowledge and skills to bring your dream mascot to life. Contact us today at 1-877-858-4226 to get started!