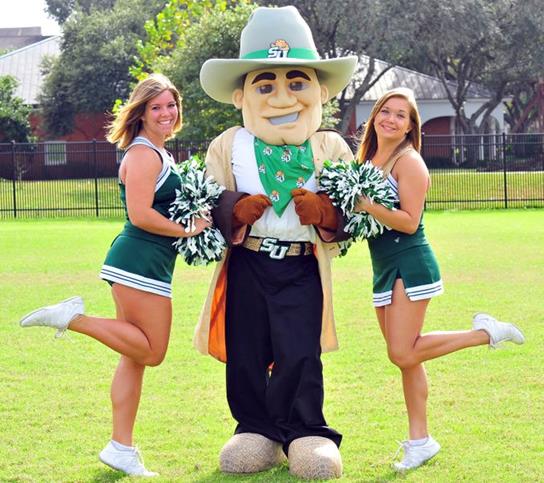 As a mascot performer for a school or sports team, you're an important part of the spirit squad or cheerleading team. You have a unique opportunity to excite the crowd and engage the fans. You may not be able to perform the same stunts or yell like a truecheerleader, but there are some things you can do to improve your cheerleading and help to get the crowd on their feet!
Move Like You Mean It
When you're in a larger-than-life mascot costume, your movements can get lost. It's important to make large, sharp, purposeful movements so that your audience can see what you're doing. In cheerleading to a crowd, this is even more important. Thecheerleading style requires sharp and dramatic movements and choreography. Practice your movements in a mirror while wearing your mascot costume so that you can see how much you need to exaggerate.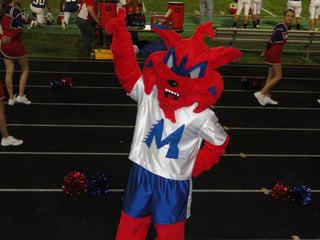 Keep Up Your Energy
Even if your team is losing, it's important not to show any disappointment or fatigue. Cheerleaders must smile and stay peppy throughout their performance. Leading the crowd in staying cheerful, engaged, and energized throughout the game can make the game a great experience - no matter the outcome.
Learn The Moves
The cheerleading team knows their stuff! They practice for hours to perfect their moves and dance routine. Ask them to teach you some of the more basic choreographed steps that you can use in your mascot costume. If you can join in during some of the cheers, you can really get the crowd going! If your team or school doesn't have a cheerleading squad, see if you can take a few lessons from a dancer, acrobat, or someone who can show you some basic cheerleader moves. Having some cheerleadingor dance steps in your repertoire will entertain the crowd and help you feel more prepared for your performance. Fans always love a good dancing mascot!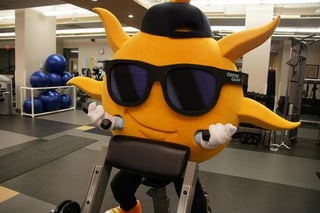 Get Fit
It will help your performance if you stay in good shape. Training your strength, flexibility, and endurance will help take yourcheerleading performances to the next level. Strength and flexibility help prevent injuries during your performance, and can also help with your really impressive moves (how will the crowd react when you do a high kick or a mock slam-dunk?) Building your endurance will keep your energy up for longer periods, and make your job much easier and safer for you!
Practice!
Practice makes progress and there's no doubt about that when it comes to mascot performing and cheerleading. Join incheerleading practices if you can, get feedback from friends, coaches, or your mascot handler. Practice your gestures and routines in front of a full length mirror. If it helps, get together with other mascot performers to shoot ideas back and forth and give each other feedback. Ultimately the key is to practice, practice, practice!
Following these tips will up your cheerleading game, and get the crowd and fans excited and engaged. Looking for more tips on Mascot performing? Check out these blogs!
The BAM Mascots team blends creativity with manufacturing excellence to create an innovative, high-quality mascot for your school, team or organization. With more than 25 years experience in mascot design and manufacturing, and hundreds of mascots in our portfolio, the BAM team has the knowledge and skills to bring your dream mascot to life. Contact us today at 1-877-858-4226 to get started!