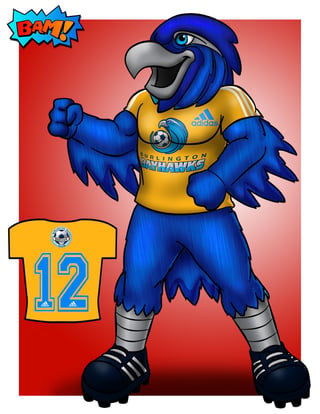 Many people might not realize that mascots have the potential to affect the community beyond simply their own sports team, school, or organization. A good-quality custom mascot has impact. They are universally appealing to all ages, from very young children, to the elderly. A friendly mascot character with an inviting personality has undeniable celebrity appeal!
Burli the Bayhawk, is a great example of the impact a mascot can have in the broader community. Burli is the mascot for the Burlington Youth Soccer Club (BYSC), and his approachable and fun personality has made him extremely popular with the Bayhawk sports teams, and families in Burlington, Ontario.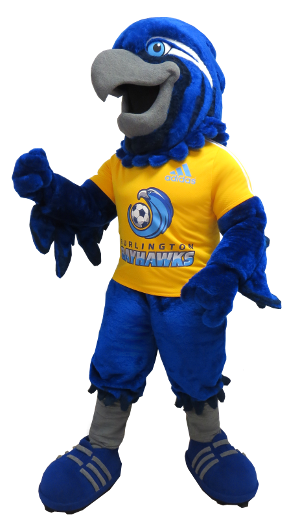 The BYSC has become one of the most recognized and successful soccer clubs in North America by winning multiple National Championships, 40 Ontario Cups, numerous Indoor Ontario Cups, producing a number of National team players and sending over 150 players to University on soccer scholarships.
Before 2012, all of the teams belonging to the Burlington Youth Soccer Club had different names; Panthers, Vipers, Force, etc. After some thought and planning, the club decided to have all of the teams play under the name Bayhawks. Rod Hickey, the Facility Supervisor, recounts, "As a way to help brand the new name and unite the Club behind the Bayhawks, we decided a mascot might be useful." The club then narrowed down their choices between two Mascot companies, and after receiving concept art, decided ultimately to go with BAM! Mascots.
The BYSC held a "soft reveal" at a spring warm-up tournament in 2013, and a grand unveiling a week later at their Annual FunFair. "The kids and parents loved Burli right from the beginning," says Rod, and after attending several games, tournaments, and other community events around the city, Burli became a recognized and beloved public figure - all over Burlington.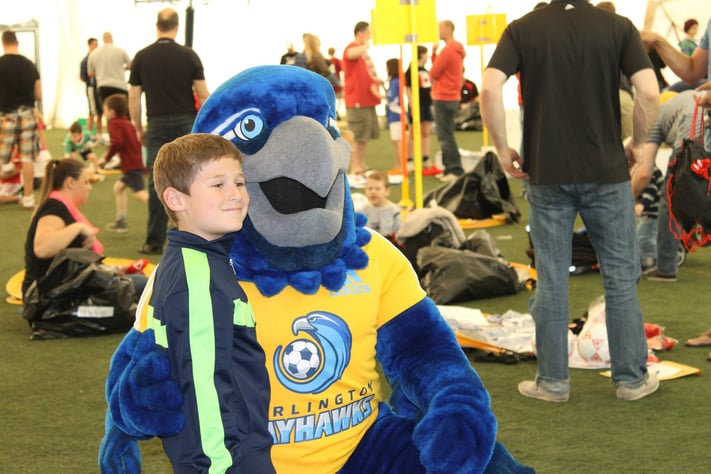 Once Burli was a local celebrity it was nearly impossible for him to go out to events without having children and fans call out to him excitedly. In December 2013, Burli attended his first Christmas Parade. Rod remembers, "Kids were shouting out to him from both sides of the road. They were saying things like 'Burli, I play for you!', 'Burli, I scored a goal for you!' and 'Burli, I saw you at…'"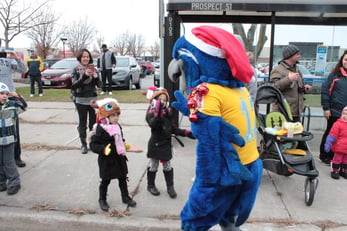 One of Burli's fun facts is that he only has 3 fingers and a thumb, so high-5s for Burli have become high-4's , a line he uses often to get a laugh out of his fans. Any event he goes to, you will hear fans and children calling to him to give him a high-4. Humour can really make your mascot unique and engaging for your audience!
Burli has received a lot of exposure in the community from participating in different activities around Burlington. For example, Burli took a cross-fit course with audience members cheering him on. He's also learned some moves from the cheerleading team as well as a karate instructor. The club has set up a Facebook page to share all of these fun activities with Burli's many fans. One of the most important steps you can take in using a mascot for marketing, is to use social media to engage with fans, just like Burli does.
Burli has not only been welcomed with open arms into the club, but all over the city people are talking about Burli the Bayhawk. "Everyone loves having their picture taken with Burli," says Rod, "Teams are asking Burli to come to their end of year parties. His popularity just keeps growing. Thank you BAM!"
If you are looking to create a mascot for your school, team or business, get a quote today and we can help you make a lasting impact with a custom mascot costume!
Want to know more about how a mascot can help your business or organization? Download a copy of Coqui The Chef!