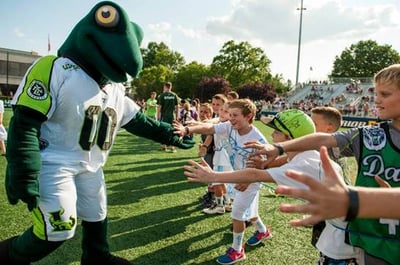 When you decide to have a custom mascot costume created for your organization or business, you're making an investment that will pay off for years. Mascots are brand ambassadors you can use over and over again, at large events or small gatherings. Take care of your costume, and your mascot will always represent your brand in the best light.
Beyond regular cleaning, there are steps you can take to ensure that you get the longest service life from your mascot as possible. Follow our tips for prolonging the life of your costume, and you'll get to enjoy your mascot for years to come!
Air out your mascot costume after each performance
With each performance comes new sweat from your performer. It's important to let the costume dry and air out before stowing it away between performances. Even if you don't clean it after each performance, simply letting it air out will help prevent mildew and odour from developing, and make it last much longer. 

The head should be wiped out with a dry cloth to remove any perspiration that has accumulated during the performance. A gentle, non-liquid freshener or deodorizer can be used to refresh the interior of the head.
Store in a cool dry place
Be sure to store your mascot costume in a clean, cool and dry environment. Cover the eyes with a soft cloth or other protector to ensure that no damage is inadvertently caused. If your mascot costume has a ventilation fan, be sure to unplug the battery during storage. We highly recommend that the mascot be stored in the custom carry bag provided, to prevent dust build-up and inadvertent damage.
Deal with any needed repairs immediately
Damage such as tears, holes, and even mould or mildew, will only get worse over time if they are not looked after. It's important to deal with this type of damage as soon as you can. Minor repairs can be facilitated at your discretion (seams splits, minor tears etc.) but we would be happy to provide service for complex repairs such as foam tears or eye damage.
Avoid picking the costume up by ears or tail
Be gentle when handling your costume. Pick up the head and the body using both hands. Avoid lifting the costume up by smaller parts such as the tail, ears, antlers, horns, whiskers, etc...
Follow your maintenance and care instructions provided
With every custom mascot we create, BAM! Mascots provides a care and maintenance guide. Mascots are made from many different kinds of materials and fabrics, and may require specific care methods. If you have lost your instructions, let us know and we will happily replace them for you!
Use a professional cleaning service
Your mascot's gloves, shirt, inner and outer body are machine washable, though we strongly recommend using a professional cleaning service to ensure the best results and reduce the risk of damage. Be sure to disassemble the component pieces of the body prior to cleaning.
If you do not opt to have the costume professionally cleaned, be sure to wash using a gentle cycle, in cold water, and allow to hang/air dry. Do not use a dryer to dry the body of your mascot. It is strongly recommend that the washing machine you use does not have a central agitator, as this could damage the costume.
Protect the eyes
Your mascot's eyes are the most fragile part of the costume, and care must be taken to ensure that they remain undamaged. Refrain from placing the mascot head face-down to protect the eyes. If the eyes become dirty or dusty, a light cloth can be used to clean the inside. Should the fabric require light cleaning, use a light, damp cloth with diluted liquid laundry detergent to clean the eye fabric.
Be aware of your surroundings
Make sure your performer is aware of the space they are in and the people around them. You don't want the costume to be damaged or the performer to be injured. We recommend that you have a mascot handler to steer the performer clear of anything that might damage the costume such as; cigarettes, candles, sparklers, mud, puddles, dogs, permanent markers, wet paint, or kids with messy hands.
If you follow these tips, you'll reduce the chance of damaging your costume through normal wear, and your team, fans, school, clients, or organization, will get to enjoy your custom mascot during many appearances over its lifespan.
If you are looking to create a mascot for your school, team or business, get a quote today and we can help you make a lasting impact with a custom mascot costume!
Want to know more about how a mascot can help your business? Download a copy of Coqui The Chef!