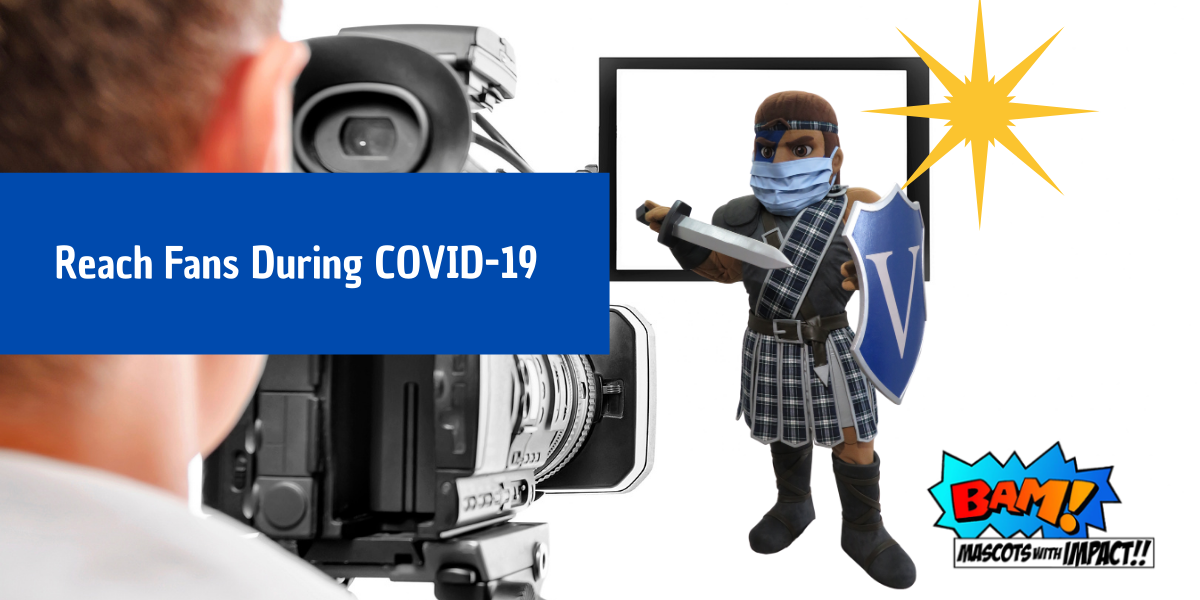 COVID-19 has impacted the marketing campaigns of a wide range of organizations, and this includes those that use mascot marketing to promote their company. These brands have had to find new ways to use their mascots and generate audience engagement.
With social distancing measures in place, physical events postponed for the time being and public gatherings largely restricted, businesses with
custom mascot costumes
have had to reimagine how they use their characters to reach their audience.
Thankfully, using a brand mascot doesn't have to be confined to in-person events. There are a number of unique and innovative ways that you can adapt your mascot marketing strategy during COVID-19 to ensure your audience and employees are safe, while at the same time still promoting your organization.
In this blog, BAM Mascots has listed four ways that your organization can modify its mascot marketing program over the coming months:
#1 - Unable to bring joy to fans at in-person events? Use video marketing instead
Did you know that, according to Google, six out of 10 people prefer online video platforms to live TV. There's no doubt about it, people are now spending an increased amount of time watching videos on their mobile devices, and video marketing is now more effective than it has ever been before.
Your mascot marketing program has probably come to a halt, with social distancing measures preventing your mascot from making appearances at local events. Instead of bringing your audience joy at in-person events, why not try your hand at creating some exciting and engaging mascot videos instead?
You can read some tips and tricks for making mascot marketing videos on our blog, Looking to Create Mascot Marketing Video Content? Read These 5 Tips and Tricks First.
#2 - Celebrate organizations and individuals who are making a difference
This year so far has seen organizations and individuals alike do some amazing work within the communities they operate in. Whether it be fundraising, spreading joy to residents or working essential jobs to keep everyone safe. Ensure your mascot is a part of this community, and thank those who are doing a wonderful job at keeping everyone happy during these difficult times.
#3 - Take your social media campaign to the next level
Mascot costumes are a fantastic way to enhance your organization's online presence, and there's no better time to spend perfecting your social media strategy than right now. With mascots unable to attend physical events, now is a great time to engage with your audience across social channels.
Use your mascot on social media to help your audience feel part of a community, and bring them some lighthearted entertainment. This could involve anything from simple dance videos to educational videos - just make sure to keep it light, upbeat and fun.
#4 - Spread cheer in your local community
Even though your mascot can't perform at physical events this year, that doesn't mean you can't bring in-person joy to your audience. Spreading cheer around your town or city will not only help enhance brand awareness, it will bring happiness to your local community at a time that they need it most.
There are a number of ways you can safely do this, such as providing drive-by greetings to nearby residents. By keeping a safe distance in a vehicle, your mascot can help celebrate with residents who have a birthday, anniversary and other special milestones.
With the festive season coming up, read our blog Mascot Marketing: 4 Ways to Boost Community Spirit This Festive Period, to learn about some ways you can spread holiday joy this year.
Want to learn more innovative ways you can safely use your mascot costume during COVID-19, or simply want more information about designing your very own custom mascot costume? Contact BAM Mascots today. Our team of mascot design experts would love to answer any questions that you may have.