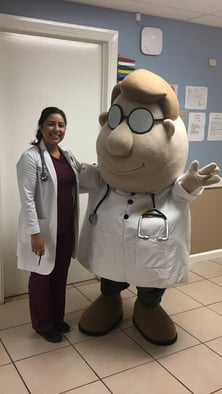 Valley Day & Night Clinic, located in Brownsville, Texas, is no ordinary clinic. This clinic caters to its clients through its exceptional service and extended hours of operation. Valley Day & Night Clinic is open 7 days a week until 10PM. This is great for their clients as it is very difficult for them to get medical attention during work and school hours. Valley Day & Night have been in business for 20 years, 10 of which they have been the proud recipient of the Reader's Choice Award for best medical clinic.
You're probably thinking to yourself how great this clinic sounds. What if we told you they have a Doctor mascot?
Meet the Doctor. - the mascot created for Valley Day & Night Clinic by BAM Mascots. The Doctor loves interacting with children and clients at all events that the medical clinic holds or takes part in. The Doctor has a big smile on his face which really puts the children at ease and delights them. What better way to reduce the fear children have for a visit to the doctor?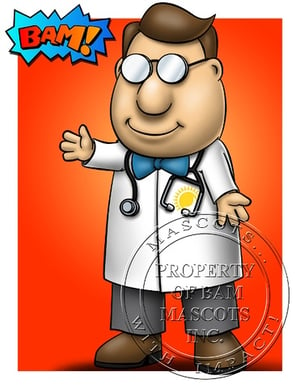 Creating a custom mascot for your health care service is a great way to reach out. Children and adults will be able to relate and remember a positive interaction with the visual memory of your mascot.
Promoting your clinic with a mascot is a great way to bring children in with a smile. They aren't thinking about being sick, or worrying about getting a needle, when they are anticipating a meeting or saying hello to your mascot, in this case The Doctor. What better way to stand out in your community than by having a friendly mascot and exceptional service.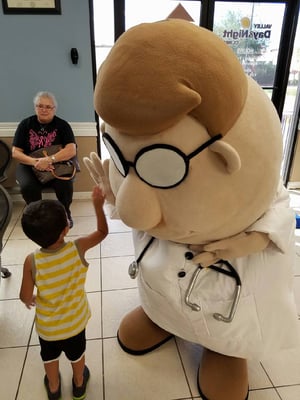 This past Halloween, The Doctor was out with some of the employees of Valley Day & Night Clinic, handing out candy and spending time with the trick-or-treaters.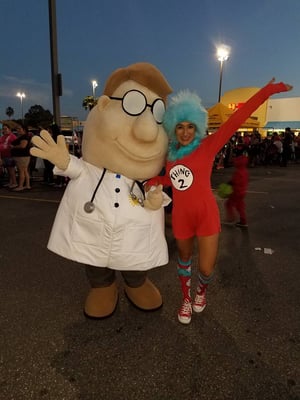 Having a custom mascot also breaks the ice or fear around other public services messages such as fire or crime prevention. If you are thinking of creating a mascot for your health care or other community service, contact us with any questions or enquires. We will provide you with a quote and a timeline of when you can expect your custom mascot to be ready and put into action.
The BAM Mascots team blends creativity with manufacturing excellence to create an innovative, high-quality mascot for your school, team or organization. With more than 25 years experience in mascot design and manufacturing, and hundreds of mascots in our portfolio, the BAM team has the knowledge and skills to bring your dream mascot to life. Contact us today at 1-877-858-4226 to get started!