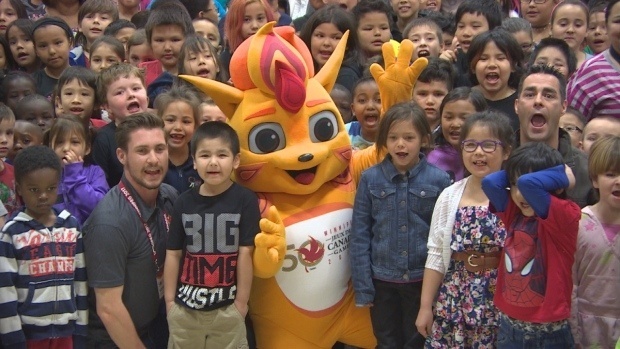 If you were one of the millions of football fans around the world who tuned in for the FIFA World Cup games, you most likely enjoyed the game's sports mascot. Each FIFA World Cup since England's World Cup victory in 1966, has had its own mascot which represents the competition and its home country.
World Cup Willie (England's 1966 mascot) was one of the first mascots to be associated with a major sporting competition, but sports mascots now play a significant role in representing a particular event or a specific sports team.
This year it's Zabivaka, the official mascot for the FIFA World Cup Russia 2018. The wolf mascot, which was selected by an internet voting system back in 2016, played a prominent part in the tournament's opening ceremony and was designed with a "charming, confident and social" personality.
A statement on the importance of the mascot, from the tournament's governing body FIFA, reads: "The Official Mascot will play a very important role in the 2018 FIFA World Cup Russia. The wolf will not only promote the event and entertain crowds at the stadiums, but also become an ambassador for Russia and a worldwide celebrity."
A custom sports mascot can play a significant part in symbolizing the values and ideas of a particular team or tournament, and with that comes a number of benefits.
Although BAM Mascots didn't create the FIFA World Cup Mascot, we have created sports mascots for amateur teams, professional teams and large scale sporting events. BAM Mascots was delighted to create a custom mascot for the 2017 Canada Games. The Summer Games are Canada's largest multi-sport event for young athletes.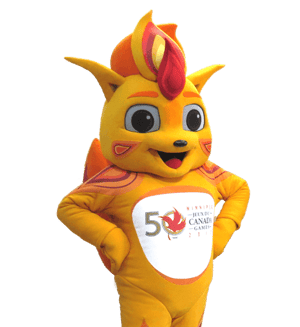 Thinking about creating a sports mascot for your team or organization? Here are three reasons a mascot can help promote your sports team:
1 - Increase audience and fan engagement
Team spirit and determination can be significantly improved by cheering fans, and there's no better way to pump up your fans than by the use of a sports mascot. A high-quality team mascot can help rile up your fans and have them cheering throughout a game.
With a well thought-out personality, your team mascot will be able to keep crowds engaged and entertained and, in turn, this will provide a boost to your players.
2 - Additional revenue streams
Having a sports mascot will give your sports team the opportunity to sell merchandise related to your mascot, as well as send your mascot out on community events in a bid to drive sales and marketing for your sports team.
A custom and well-thought-out mascot will allow your team to take advantage of licensing and merchandise creation, and give your team a unique opportunity to drive additional revenue into your sports club.
3 - Promote your team's message
Whether you are a professional outfit looking to reach the top, or a social sports team looking to teach both adults and children good values with a view of simply having fun, a custom mascot will be able to promote the overall message of your team.
A tough animal such as a lion, shark or warrior could serve to scare your opponents and promote your team as a serious challenger, while a silly monster or caricature could help you engage with the crowd through silly antics and a playful persona. Whatever mascot you decide to design, your mascot will say a lot about your team and what it stands for.
Other benefits of a sports mascot include:
Increase awareness recognition and loyalty.
Increase media exposure.
Helps encourage a family-friendly environment.
Boosts entertainment levels.
Mascots are eye-catching and hard to ignore.
A sports mascot will provide a laid-back and fun aspect to your sports club, while also helping to promote additional revenue, improved fan engagement and more media exposure. What's to lose?
Want to create your own custom sports mascot? Contact us today.