When you think about mascots, you might first think about sports mascots, mascots for school athletic events or for professional teams. Big global brands such as Pepsi, McCain, and Crayola have used performers in mascot costumes to build an association between their brand and their audience.
You don't, however, have to be an international company to have a brand mascot. Small businesses can use mascot marketing to reach and connect with their customers.
A great example is Jaco, of Jaco's Bayfront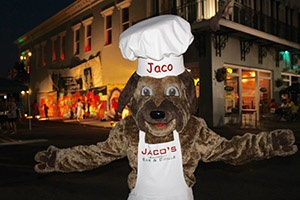 Bar & Grille in Florida.This popular spot has a tradition of reaching out to their community by hosting family events, special dinning nights, wine events, even art shows!
If there is a camera flash or a selfie being shot - you'll most likely find Jaco the dog in the picture.
Jaco is at the centre of this restaurant's brand. He's in the company name, the logo, and is a well-known character at community events and in and around the restaurant facility.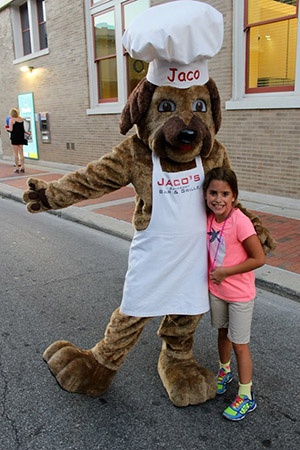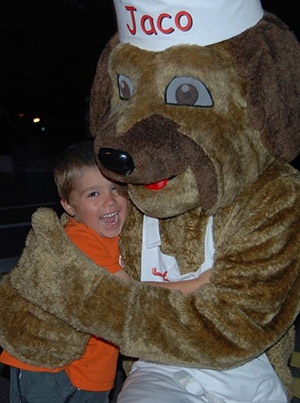 Here's a video about Jaco's Bayfront Bar and Grille - you'll see Jaco the mascot make an appearance around the 8 minute mark.
Jaco's Bayfront Bar and Grille from WFBD/Blab TV on Vimeo.
In Mascot Marketing on Social Media, we wrote about how brands are using mascot characters on social media. Jaco has his own Facebook page with 5,346 followers!
It's not all about him though - the restaurant uses Jaco's Facebook page to announce events, specials and share beautiful photos.
Because Jaco is a friendly looking dog, he is a magnet for children who love to get their pictures taken with him and give him a hug.
If you are looking for a way to reach families, and draw foot traffic to your business, a brand mascot like Jaco might just be the thing.
We create brand mascots for big and small businesses alike, so if you'd like more information or would like to discuss an idea, give us a call.