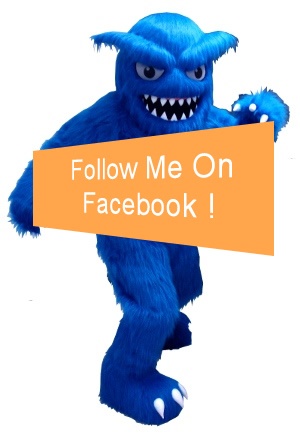 Mascot have fans, and if your mascot has been a spokesperson or representative of your brand for a long time, chances are they are not only part of your brand equity, but have a large fan base.
Traditionally, fans only had a chance to interact with your mascot during public appearances, but that has all changed with the tremendous growth and popularity of social media.
While there is nothing like shaking hands with a mascot or watching them perform to a crowd, many mascots are taking their message to social media and opening up Facebook pages and Twitter accounts! This increases the reach of a brand mascot and can also boost marketing efforts.
In "Personifying Your Brand: The Use of Brand Mascots on Social Media" (Business2Community) Elizabeth Kent comments on the effectiveness of brand mascots on social platforms. "Studies show that brand mascots do resonate with customers, inspiring them to engage in conversation and share content. Mascots such as Flo from Progressive, the GEICO Gecko, and Tony the Tiger have brought significant social media success to their parent brands. According to one study, they're more effective than celebrities. "
When a mascot is given a voice through social media, social engagement increases. Brand mascots assume a persona that consumers find fun to communicate with. They speak in the first person and share stories and photographs online. It is a softer way to sell products or increase your brand awareness.
Social media is a perfect forum for this - creating a richer narrative for your mascot. In a blog post, "When Mascots Have Social Media Profiles, Great Things Happen", by Anna Vashenko (SproutSocial), three strategies are discussed to help your brand use social media with a mascot.
1.) Mascots Can Make a Complicated Service Approachable : Aflac Duck - the quacking bird explains the ins and outs of insurance in a casual humorous way. The bird's twitter profile now has more followers than the insurance company's official account.
2.) Keep Your Marketing Lighthearted : Creating a social media account for your mascot can help organize chats around products or services. The Energizer Bunny has a separate twitter account, with messaging less corporate and more around popular culture references.
3.) Leading the Strategy with Your Mascot : Mr. Clean's mascot is Mr. Clean. The brands social media posts are written in the first person as if Mr. Clean was speaking to his fans about the cleaning products. Some companies decide to just present themselves on social media through their mascot.
By giving your mascot social media accounts, your brand can behave like a person and this makes for a more engaging conversation with your audience. Your mascot can develop personality traits that link to your corporate culture and identity. Human characteristics are better associated with your brand.
The cost to set up social media accounts is only related to time and effort. For larger brands, that means adding additional social profiles into their marketing mix.
But if your mascot is for a school sports team - or community group, should you still create social media accounts? Yes, if you have a volunteer or a resource person to post event details, videos, and pictures. Once the social media accounts are created you'll be more encouraged to take pictures and videos of your mascot in action and share them online. You can create a hashtag with your mascots name and start interacting with fans during and after games or events.
Social media is a great opportunity for mascots to build their fan base and raise their profile - and the result of that is better brand awareness and more fun for fans!