Summer is a peak season for outdoor activities, fundraisers, events and festivals, but if a mascot is part of your company's marketing strategy this year (which it should be!), then how do you make sure your mascot performer doesn't overheat?
Mascot marketing can be a great way to differentiate your company from its competitors, to build a connection with your target audience and to drive sales, but your mascot performer is key to that success and that means staying refreshed throughout those summer events.
Here are six tips to help your mascot performer stay cool this summer:
1 - Plan your mascot design for ventilated comfort
If you a creating a mascot and you know performances will be required for long periods and in hot conditions, then make sure you design your costume for this environment. Creating a custom mascot will allow you to plan the costume for use in hot weather. You should ensure there is strategic ventilation throughout the head. The company designing your mascot will be able to advise any other places where ventilation can be added.
Installing a battery-powered fan inside the costume is a standard fixture of our mascot design. The ventilation fan helps circulate fresh air into the mascot head, enabling the performer to breathe more comfortably.
2 - Wear lightweight clothing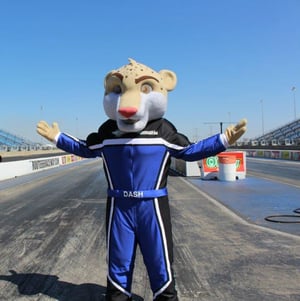 We recommend that your mascot performer wears lightweight clothes with sweat-wicking materials to stay comfortable. Performance work-out clothing will help to keep your performer both cool and comfortable while they are performing in the costume, and will make movement far easier than bulky clothing. Street clothing like cotton t-shirts and jeans, will hold the sweat and make the performer feel uncomfortable and fatigued. View our blog here for more advice on what your performer can wear to stay comfortable.
3 - Stay hydrated
We know, you've heard it a million times, but water really is essential here. Make sure that your performer takes regular breaks and drinks plenty of water throughout an event. Dehydration can cause blurred vision, exhaustion, serious headaches and even fainting, and your performer may have to call it a day if they experience these symptoms. Staying hydrated will allow your performer to be in top form throughout the event.
4 - Purchase a high-quality mascot costume
A mascot created for professional use will be durable and well-constructed. High quality, high performance mascots, such as those we design here at BAM Mascots, are specifically created with your performer in mind. We work with you from concept to creation, using the best possible materials on the market. We will create a mascot design concept based on either your vision or your own unique artwork. We then follow that up and bring your mascot to life, using the best possible materials to keep your performer cool during those warm summer days.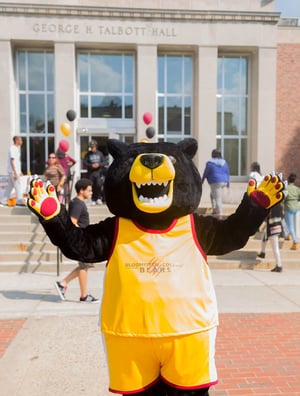 5 - Have more than one mascot
Having more than one mascot costume, whether it's rotating performers or two different mascots, is helpful for hot and prolonged events. A second mascot will allow both mascots to take breaks throughout the day while still retaining your brand presence at all times. It will also allow you to build a stronger mascot story.
Alternately, you could have two rotating performers. This is particularly smart for events that you know will be long, or have higher temperatures than usual. Using two performers will allow them to take turns as the mascot throughout the event. Performers will appreciate the opportunity to have a break and cool down, and your business will benefit from a high-energy mascot performance all day long.
6 - Wear a cooling vest and sweat bands
A cooling vest is designed specifically to help mascot performers stay cool and feel refreshed during their performance. A cooling vest should be equipped with a pocket for cold gel packs, and these should be swapped out when they start to warm up. This will allow your performer to remain cool throughout their entire performance.
It's also advisable to keep a supply of sweat bands in your mascot gear bag. When the performer gets warm inside a mascot costume and begins to sweat, this can run into the performer's face and eyes. Sweat bands will help to wick away the moisture before it becomes an issue.
Preventing your mascot performer from overheating, and keeping them hydrated, will make sure they have an enjoyable time and ensure that high-level performance you desire.
Contact BAM Mascots today for more information on keeping your performer cool.