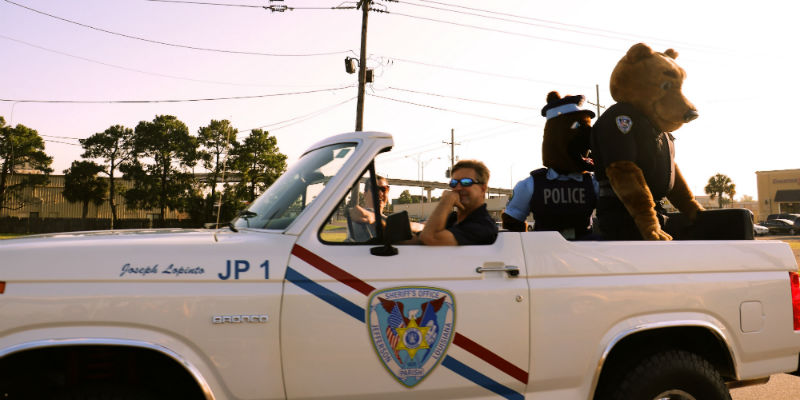 Successful mascot marketing is all about making a good impression on your audience, and to do that your mascot performer needs to be full of energy and constantly looking to delight those watching on.
That's why a fan is such an important feature in your custom mascot costume. It allows for better ventilation inside your mascot costume head, allowing your mascot performer to breathe properly throughout their performance.
What is a mascot costume fan and what does it do?
A mascot fan is a small device, located in your mascot costume's head. By pushing stale air out of the costume and bringing in fresh air from the outside, mascot fans help to ensure that your performer can breathe well inside the mascot head.
The main goal of mascot costume ventilation is to expel the stale air inside the mascot head and draw in fresh air from outside. Without a ventilation fan, this is simply impossible. With no fresh air circulation in the costume, your mascot performer will experience more difficulty breathing.
Thankfully, ventilation fans are a standard feature in all of our custom mascot costumes here at BAM Mascots.
Working hand-in-hand with the mascot costume's ventilation ports to keep a fresh supply of air inside the mascot head, a mascot costume fan will ensure that fresh air is circulated around the mascot costume and that your performer has all the tools they need to stay well-ventilated and keep performing to their optimum level.
How will a mascot costume fan benefit your performer?
By keeping your mascot performer comfortable in their costume and ensuring they have a constant supply of fresh air, you will be making sure that they are able to go the distance and impress your brand's audience at each event that your mascot attends.
Having invested in your mascot marketing program, your brand will want to ensure that it's seeing a return on that investment. A ventilation fan will ensure your performer can keep performing at an optimum level - delighting your potential customers and improving the likelihood that they will buy from your business.
In fact, there is a wide range of indirect benefits that your company will realize from ensuring your brand mascot has a ventilation fan installed in it. These include:
Building better relationships with your potential customers/audience.
Better mascot performances with increased longevity.
Those in attendance will remember your mascot, and, as a result, remember your brand.
This will result in increased brand recognition.
A more exciting performance will result in a higher chance of gaining media exposure.
And much more!
How do you protect your mascot fan from damage?
Aside from the general advice we provide in regards to cleaning and storing your mascot - such as in our blogs titled 'How to Clean Your Organization's Mascot From Head to Toe' and '5-Step Process to Store Your Organization's Mascot Costume' - there's just one additional thing you'll need to remember to protect your ventilation fan and ensure it doesn't break. Simply remember to unplug the battery from the fan during storage and between performances.
This will allow you to avoid any undue drain on the battery so that your performer doesn't put it on right before a performance only to find out it's not working.
Do you have any further questions about mascot costume fans or want more information about why ventilation is so important for the performance of your mascot? Contact our team of experts today here at BAM Mascots.