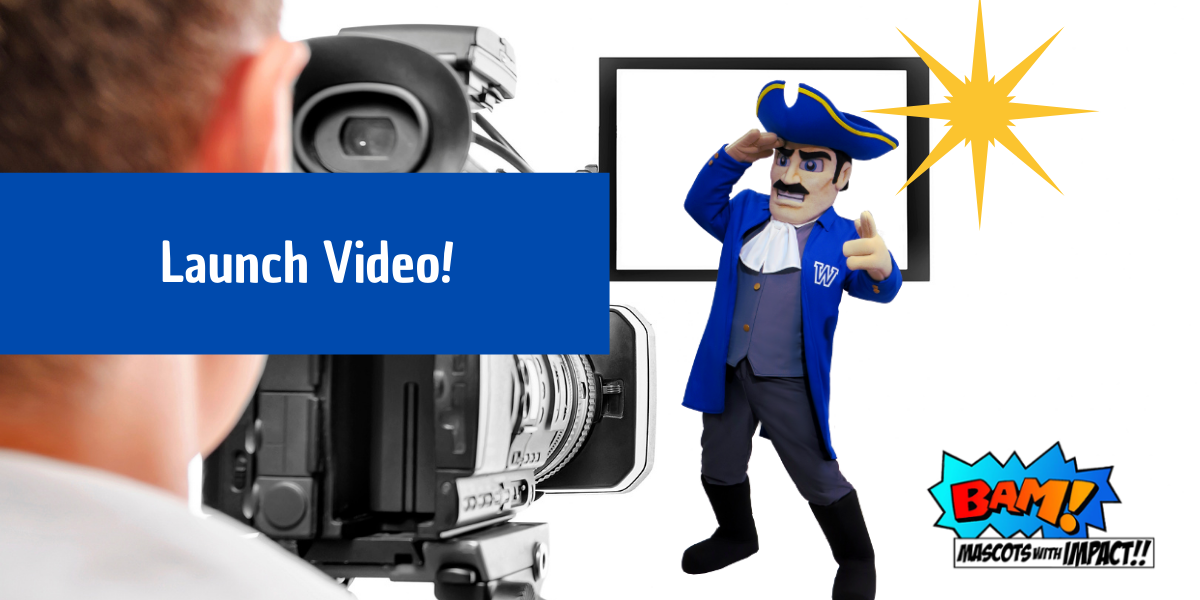 Receiving your finished custom mascot is incredibly exciting. As soon as it arrives your organization will probably want to get started with your mascot marketing strategy, posting your new brand mascot across your social media, website and customer communication channels.
But wait a minute! You have spent a substantial amount of time designing and perfecting your custom mascot character, from selecting the right colours, accessories and outfits to making sure its personality matches your brand's values and ideals.
You only make a first impression once, so why not put just as much effort into planning a unique introduction for your mascot character, one that creates excitement and helps create a relationship between your brand and its fans?
One of the most effective ways to do this is by creating a mascot launch video, which you can then post on your website, social media channels and email to your audience. In this blog BAM Mascots lists some tips and advice to help you create your very own mascot launch video.
Lay out your video's storyboard
The first thing you need to do when planning your mascot reveal video is to create a storyboard. . You neYou can't just pick up a camera and wing ited to have a clear idea in mind if you want to create an effective video that appeals to your audience.
The best type of video content tells a story that connects with your audience. Create a storyboard that plans out your video's introduction, middle and end and create a story that reflects the values and messages that both your company, and mascot, stand for.
Remember, a mascot unveil doesn't have to be long. In fact, the best mascot launch videos are often pretty short and concise - keeping your new mascot's look and feel closely under wraps. This leaves your audience wanting to learn more about your mascot character long after the video has finished.
Practice with your camera and choose a time/location where the lighting is just right
You can't simply become a professional filmmaker overnight, but, thankfully, you can still create a fantastic mascot reveal video without being a professional filmmaker. Before your shoot, make sure you take some time to become familiar with your camera and the lighting setup you will need for your video.
Practicing with your camera, and learning some basic photography tips, in advance of your shoot will ensure you know exactly where all the settings are and how to frame your mascot. It also gives you time to practice with manual modes over automatic, which give you far greater control of how your video will look.
Use this time to learn how lighting works as well. Read about how exposure works with your camera, and what you need to do with the lighting to create an environment that reflects the story you are trying to portray in your mascot reveals. If you are filming indoors, you might need to rent a professional lighting kit as you will be lacking natural light.
Capture your video content
Now you have a storyboard planned out for your mascot launch video, and you are familiar with your camera settings, it's time to start the filming process. Make sure each member of your team has a copy of the storyboard and knows exactly what will be taking place during the filming process, this will ensure the process runs seamlessly.
Your mascot unveil video could be anything from a video montage that shows your mascot training for the upcoming sports season, a series of events that explain your mascot's backstory or simply a video that slowly unveils parts of your mascot costume to help build audience anticipation.
Edit and post your video
Your video isn't finished once you have filmed it. You still need to edit your best scenes and create a story that naturally flows together. Good video editing software will help you showcase your mascot character from every angle and ensure you produce a professional promo video for the platforms you want to showcase your video on.
Some of the best free editing software programs that you can use include:
Open Shot
VSDC Free Video Editor
Apple iMovie
Movie Maker 10
Lightworks
HitFilm Express
Shotcut
One you have edited your video, you can now publish it on your website, Instagram, Facebook, YouTube and any other platform that will help you to engage and excite your audience.

Ready to learn more about mascot marketing? Visit our blog for more tips and ideas. If you are interested in designing a custom mascot for the unique needs of your organization contact the BAM Mascots team of experts today.