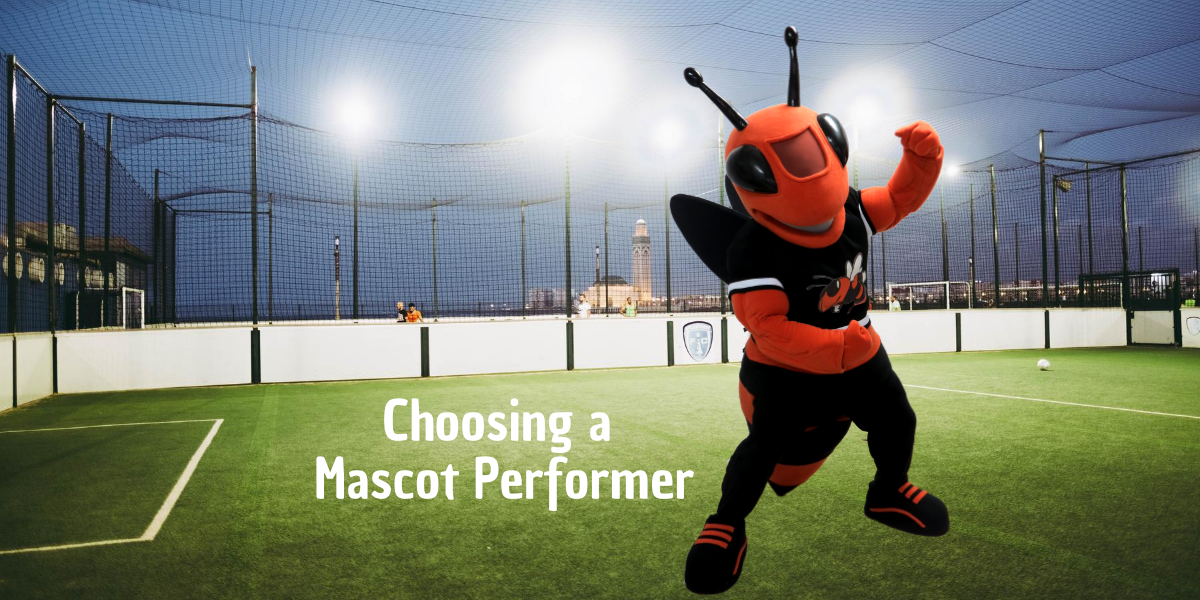 If you have just received your custom mascot through the mail, you are probably excited to get started. We're not surprised, the use of a mascot will bring a wide range of benefits to your organization.
Mascot marketing will create memorable experiences for your audience, strengthen your brand identity, open up new revenue streams and markets, improve customer loyalty, along with a wide range of other advantages.
A successful mascot marketing program, however, isn't complete once you have received your mascot costume. There's still one key element that your organization is missing. You need to find a mascot performer.
Finding a mascot performer is one of your biggest challenges when building a successful mascot marketing campaign. You need to find a performer that not only embodies the values and messages of your brand, but one who is able to fully embrace the personality and body movements of your mascot's character.
To help you find the right performer for your mascot costume and its unique personality, BAM Mascots has created a list of five key questions that you should consider in the selection process.
1 - What is the job description?
Finding a mascot performer is no different to any other candidate search. Every job has its duties and responsibilities, and you need to clearly define them before you start the search.
Will your mascot performer be putting the costume on once a week for an hour-long performance, or will that role come with extra responsibilities such as handling social media marketing, booking their appearances at events and performing other roles in your organization?
You need to define this before you start your candidate search. This will ensure your organization is looking for a mascot performer with the right experience and skill sets to perform all of the roles they will be required to.
2 - Do your candidates fit the size specifications of the mascot costume?
It's a complete waste of your company's time to go through the selection process, only to find that you have chosen a mascot performer that doesn't comfortably fit into your mascot costume. This isn't good for either your company or your candidates.
Mascot costumes are designed to specific size specifications. That means if a candidate is too tall to fit into the costume, there's no point preceding with their application. You want to find a candidate who perfectly fits into the costume.
A well fitted costume isn't just important for how your mascot looks, but it's also crucial to the comfort of the performer. The better a costume fits the more comfortable they will be, meaning they will be able to put in high-quality performances for longer periods of time.
3 - Does your mascot performer need to be physically fit?
Your answer to this question will depend on what you are using your mascot for. Will your mascot performer put the costume on for an hour at a time where they will be expected to wave at the audience and pose for photos? Or is your mascot expected to be performing backflips or choreographed dance routines?
Obviously if it's the latter, your mascot performer is going to have to be significantly more physically fit. Define the performance expectations of your mascot before you start the candidate selection process, and then ensure your performer is physically fit enough to perform as expected.
4 - Will your brand hold tryouts to evaluate potential mascot performers?
Mascots shouldn't speak, as this can ruin the mystery behind them - particularly if you have multiple performers. That means the mannerisms of your performer are what truly brings your mascot to life. That's why it's important you hold tryouts to ensure your potential performer is able to truly embody the message that your company wants to portray.
Tryouts are particularly useful once you have narrowed your potential performers to a smaller list. By seeing these performers in action, you will be able to compare them and evaluate which one conveys your mascot character best.
5 - Does your mascot performer have good references?
Your mascot is about to become the face of your brand. When you attend events in the future, your audience will expect your mascot to be there and they will want to take photos and engage with it. That's why you need to find a mascot performer who is available and consistent.
Once you find the perfect mascot performer, get some references from past jobs before you make your final decision. You want to find a mascot performer who is not only great at their job, but also reliable as well.

Are you interested in learning more about the mascot performer selection process, or mascot costumes? Contact BAM Mascots today. We have years of experience in mascot design and manufacturing.