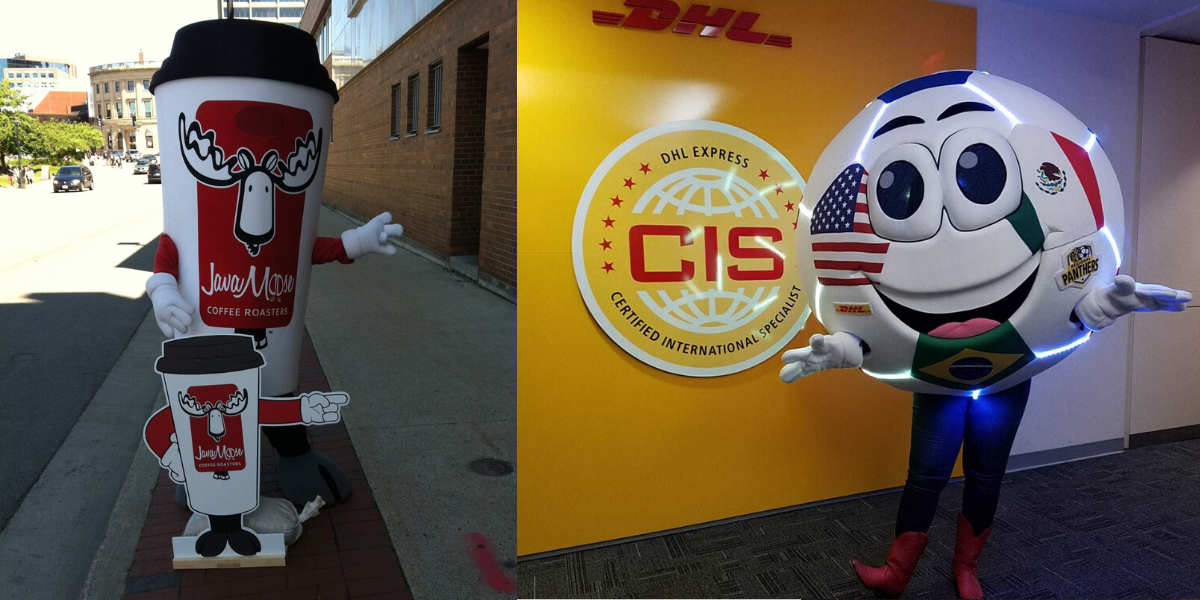 Looking for a way to market your organization to a wider audience, build a stronger brand identity and create a loyal customer base? Mascot marketing is the answer your business needs.
Mascot costumes are a great way to make your organization stand out, bolster your existing marketing and promotions strategy, increase engagement with your audience, improve online exposure and drive new revenue channels.
The best thing? Custom mascots are an incredibly cost-effective marketing tool that not only help your organization improve its profitability, but help it save money on those expensive marketing strategies that many businesses simply can't afford.
When designing your mascot costume, you will want to customize it to portray the exact image you want your audience to see. Part of that customization will include considering whether or not you want to include your brand logo on the costume.
By adding your brand logo to your mascot costume, you will be able to improve brand recognition even further. Those who have never seen your mascot before will immediately associate your mascot with your brand, while those who have seen your mascot before will think of your brand straight away.
So, what do you need to keep in mind when adding your brand logo onto the mascot costume that you are designing? BAM Mascots has listed three important questions that you should keep in mind.
1 - How large do you want your logo?
Choosing the right sized brand logo is an important aspect of the overall look of your mascot. You don't want to make your brand logo so over the top that it annoys your audience, but, at the same time, you don't want to make it so small that it's virtually invisible either.
Try to go with a size that is perfectly visible for your audience, but doesn't detract from the overall look and feel of your mascot and what you are trying to achieve when attending events or posting content on social media.
Alternatively, rather than a large centered logo, you can opt for one or a few less obvious placements of the logo in areas where a logo may naturally appear.
2 - Where will you place your logo on the costume?
The size of your logo will play a large role in where you place it on your mascot costume. If you want a small logo on the costume then you won't want it to be hidden somewhere that's difficult for your audience to see, such as underneath limbs or behind mascot props. Likewise, if you want a large logo then you won't want to place it somewhere on your mascot costume where it feels squashed.
Here at BAM Mascots we recommend that large brand logos should be placed on the costume in an area with lots of space, such as the front or back of the torso. Smaller logos have more options and can be placed pretty much anywhere on the mascot, with many organizations choosing to make them a part of the mascot clothing - such as on the leg of the mascot's shorts or on the sleeve of the mascot's t-shirt, the frames of the character's glasses, the side of the shoes, and so on.
3 - How can you ensure the brand logo is high-quality?
Your company's mascot marketing strategy is all about showing your customers that your organization is fun, helpful and willing to engage with the local community. A mascot is also a sign of the high-quality customer service, products and service that your organization delivers to its customers.
To portray this properly, your mascot costume has to be extremely high-quality. That means your mascot designer will need a high-resolution file of your brand logo. That's why here at BAM Mascot's we only work with vector art when designing mascot costumes for our clients.
Want to learn what vector art is? Read our blog - 'Beginners Guide to Vector Art: An Essential Part of Designing Your Mascot'.
Do you have any further questions about placing your brand logo on your new custom mascot costume, or simply want to enquire about designing your organization's very own mascot? Contact BAM Mascots today. Our team of mascot design experts would love to help.