University College of the North (UCN) is an educational institution in northern Manitoba, Canada, with two locations - The Pas, and Thompson. The school provides a unique focus on education and training, which is fundamental to the social, and economic development of the region. UCN prides itself on cultural openness, inclusiveness, and tolerance, and is respectful of Aboriginal and northern values.
The University / College offers students a wealth of outdoor activities - golf, fishing, hiking, skiing - by virtue of its location. Thompson is a city set in the Canadian Shield and surrounded by boreal forest. The area has over 300 km of snowmobile trails and is next to Mystery Mountain Winter Park, a fabulous area for skiing, snowboarding and practicing the biathlon. The Pas is next to Opaskwayak Cree Nation and is adjacent to the sparkling blue water of Clearwater Lake, one of the clearest lakes in North America.
With the outdoor spirit in mind - it's no wonder that UCN chose a bear for their mascot! UCN wanted a friendly approachable mascot which would add fun to their activities and be a welcoming furry face for new students. .. an ice breaker!
To introduce the mascot to the faculty and students, UCN held a contest to name their new friend.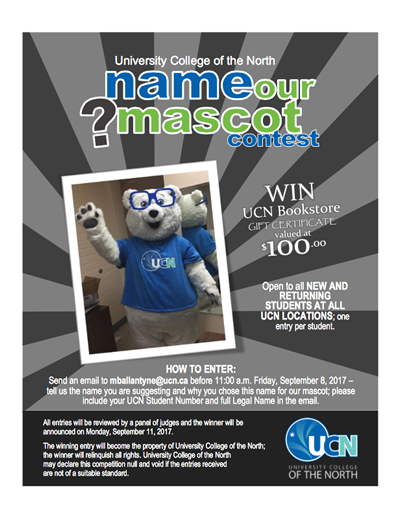 A few weeks ago a winner was announced and we can now call the engaging white bear - Peyton!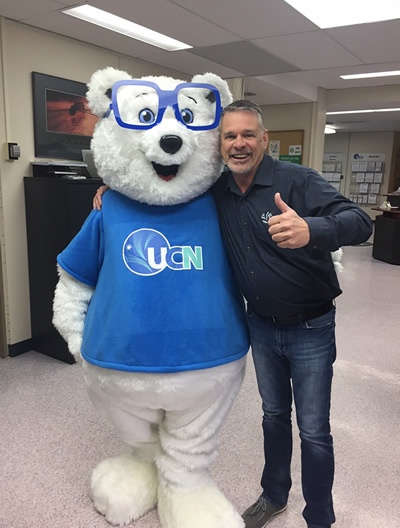 Peyton has been busy with the start of the academic year, greeting students and helping out around the UCN facilities at The Pas, and Thompson. 3 pictures. It's clear from the photos that Peyton has found an important role in college life.
Mascots have an instant appeal with students of all ages, and can take the stress out of first-year jitters, or even cheer up a homesick student by getting them to participate at an event.
We look forward to more pictures of Peyton the bear in the coming months; snowshoeing, snowmobiling, or snowboarding - hopefully not hibernating!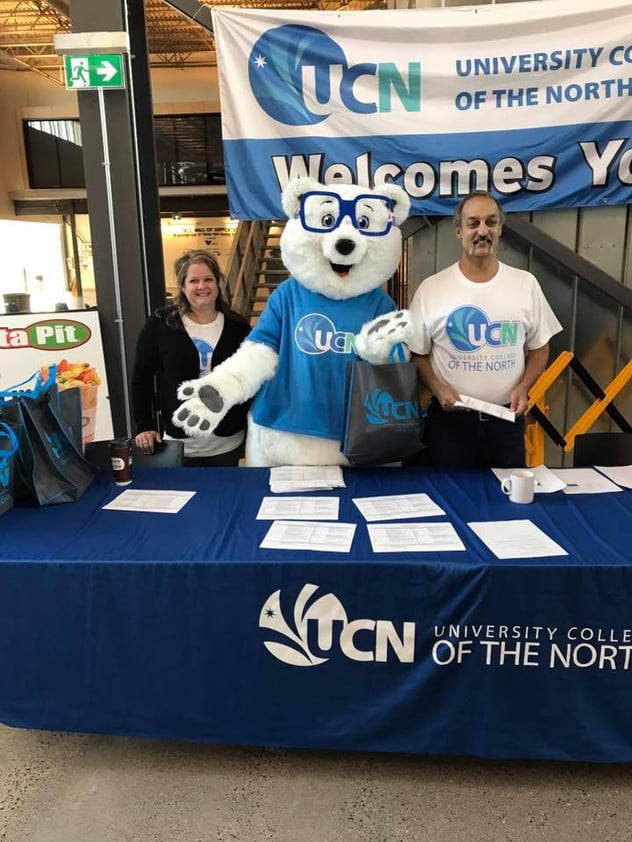 Let's get started designing your school mascot!