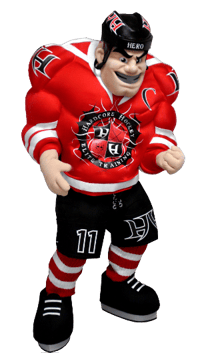 You see them everywhere ... at sports games, schools, and events…even at tradeshows, on twitter and on commercials. From the GEICO Gecko to Ronald McDonald, mascots are becoming an increasingly popular phenomenon across many different channels.
You may be considering creating your own mascot as a "spokesperson" for your brand or as the new face of your school or team, but if you're still on the fence, there are some significant reasons you should add a mascot to your marketing strategy. You could be asking yourself 'why are mascots important', or what is the purpose of a mascot?
Here's our top 5 Reasons why you need a Mascot!

1.

Mascots Add Personality
Creating a brand personality goes far beyond getting the right messaging out to your target audience. It's a difficult task to achieve for most businesses and even schools and sports teams. Creating your own mascot gives your brand a face, a character and a personality.
It makes it easier for you to create a physical and emotional connection with your audience. Without a face to your brand, you're simply another brand logo amongst thousands of other logos.

A mascot is a powerful marketing tool that personifies your brand.

When you add a mascot into your marketing mix, you not only add a friendly face to your brand, but you can develop a personality that suits your mascot … and your organization.

2.

Mascots Really Stand Out
You're at a crowded event.
There are people everywhere and you're simply trying to walk through the masses. All of the sudden you see a giant, smiling brown bear mascot ... and it makes you smile. You might even have a positive and friendly interaction with the mascot, such as a hug, you might take a selfie with the bear, or you might just give it a high five.
This actually happens often - because mascots stand out. Maybe you want to stop and get a picture, or perhaps you just walk on by. No matter the interaction, it's hard to miss a giant animal, creature or logo at an event.


3. Mascots Can Give You a Competitive Edge on Social Media
Let's talk about Flo – the mascot and spokesperson for Progressive.
She has over 4 million fans on Facebook alone. Not to mention an incredibly high level of engagement per post. Flo adds personality to her brand that would be otherwise difficult to achieve. She's perky and makes insurance fun. Or consider the M&M characters. They also have a huge following on Facebook, with more than 10 million fans. Plus, the allow M&Ms to become a friendly brand and hit a new audience through their various characters.

Think about the impact of having a great social media strategy behind every mascot. It should include a solid plan on how to engage and entertain followers.

Mascots are powerful social media tools that allow your to easily entertain you audience, build a personality, and engage your followers in a way that's more difficult through a "corporate" social media site. Your audience will be more likely to engage with your mascot than the paid marketing person on the other side of the computer.
4. Mascots Entertain and Engage.
Not only do mascots engage audiences through social media, they have a unique ability to entertain and engage in real life. Sure, you can dress up your own street team and send them out at an event, but will they be able to engage the crowd as well as a mascot can?

Mascots are unique - they have personality and they draw attention wherever they go. They become a spectacle that people look forward to seeing. Have you been to sports game recently? Mascots do an amazing job of entertaining the crowd during half-time or intermission, and even just engaging the crowd to support their team throughout the game. This is a perfect example of the power of a mascot. They become larger-than-life characters that can engage in a way that no one else can.

5.

Mascots Are Fun!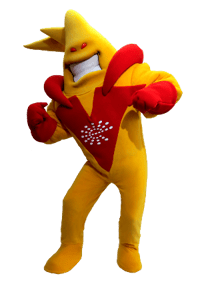 Audiences young and old have fun with mascot characters. Simply put – they're fun! They can make you laugh, they work hard to entertain you, and they are a step outside basic marketing tactics. They give you hugs or they intimidate the opposing team. Whatever personality you choose, your mascot character will be full of life, and fun!
Ready to start creating your own mascot masterpiece? Click here to get started with a free quote!
The BAM Mascots team blends creativity with manufacturing excellence to create an innovative, high-quality mascot for your school, team or organization. With more than 25 years experience in mascot design and manufacturing, and hundreds of mascots in our portfolio, the BAM team has the knowledge and skills to bring your dream mascot to life. Contact us today at 1-877-858-4226 to get started!