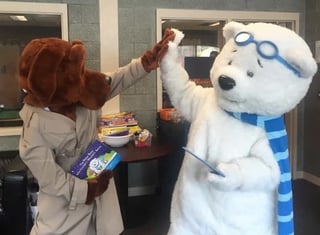 Your organization has been talking about creating a mascot for a while now, but what is the best way to design a mascot as a team? Sometimes working collaboratively can be tough, and working as a team can sometimes trigger the age old expression 'too many cooks spoil the broth', so how can you design a mascot together? Here's some things to consider when creating a mascot as a team.
1 - Research
There are a few factors you should consider before you start the collaborative design. Having someone create a market research document for the team to work from will give you a great starting point, and some background information. Have this person consider the following. Does your competition have a mascot? What does it look like? Who is your target audience? Have you ever had a mascot before? What activities will your mascot be doing?
2 - Initial Meeting Preparation
Make sure all the relevant staff or stakeholders are invited to the mascot meeting, and give them a heads up or short agenda about how the meeting will go. You could even suggest they have a couple of ideas about the mascot coming in, but you do want to start off with an open mind.
The meeting should be fun and collaborative, and giving everyone a copy of the research document can help get the creative juices flowing. A great mantra for a meeting like this is 'there's no bad ideas in a brainstorm', which allows everyone to feel comfortable and is normally a great way to get more out-of-the-box ideas.
3 – Characteristics
Jot down a few different words you want to convey with your mascot. This can help create a unique but relevant mascot for you. Think about the characteristics you want to be portrayed by your mascot, do you want it to be fierce? Think about a Lion or a Bear. Do you want it to appeal to kids? Have a fantasy creature! Do you want to inspire team pride? Maybe think about an Eagle! Do you want your mascot to be an object or a human? There's lots of fun ideas to explore!
4 - Whiteboards, Pencils & Paper
As mentioned above, the creation meeting should be a semi-structured mascot development session, allowing for everyone to get their ideas across. You want to have a chief notetaker to make sure you capture everyone's input and so you won't miss anything.
You want to encourage your team to draw, whiteboard and create some fun ideas. This is an exciting exercise and you really want to harness your team's enthusiasm and creativity to create the perfect mascot for you.
If team members have prepared sketches or bring with them photos of other mascots they like, these can be put up on an idea wall, which will bring together visuals for comparison.
5 - Finalize Ideas
There are many processes to help you select the best idea for your mascot when you are working as a team. You could create a ranking system to select the top ideas and then put those to a vote. You could also extend the vote to your larger organization or school to get more people involved.
When you have a better idea of the mascot you want to create, it's time to speak to a mascot creation company, who can create a concept drawing for you. The concept drawing could offer some recommendations to enhance your original idea and take it up a notch. Once your team approves the final concept artwork, the process of building your mascot costume begins!
Here at BAM! Mascots, we are experts at creating mascots and working with your team to create a mascot you'll love! Contact us today to talk about your mascot project.