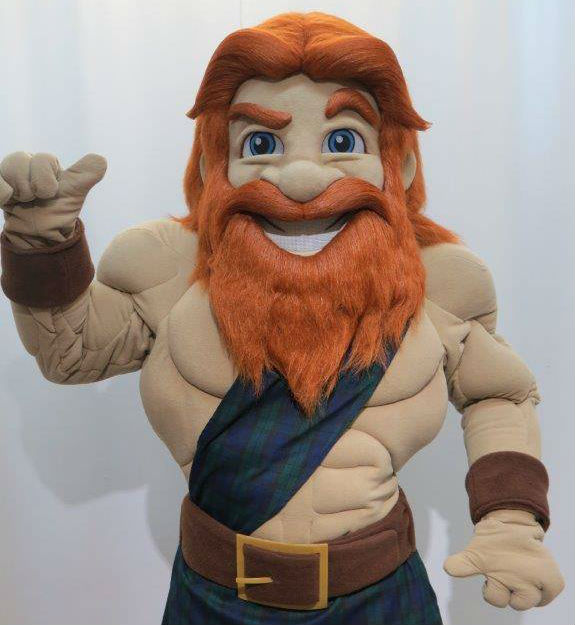 The annual Scotfest Oklahoma event has officially announced the introduction of its brand-new custom mascot, which will perfectly represent the Celtic culture that the festival celebrates.
Named Big Wullie Wallace, the festival's new mascot was designed by BAM Mascots to mirror everything the Scottish-themed festival represents. Designed with a classic Scottish kilt and a glorious ginger beard, Big Wullie will help engage both children and adults at the festival.
What is Scotfest Oklahoma?
Scotfest Oklahoma is the region's biggest and best celebration of Celtic history, music and heritage. The three-day festival, which is held in September each year, welcomes more than 25,000 attendees who come to enjoy and celebrate Celtic culture.
The festival features the sounds of Celtic music professionals, who come to Tulsa from nearby, across the United States and overseas, as well as a great selection of British and other international beers, whisky tastings and a wide range of delicious Scottish and American food.
Scottish and Irish dance competitions are also a big part of Scotfest, along with piping and drumming performances and competitions (solo and band). In addition, Scottish Highland Game competitions take place each year, with over 150 national and international athletes taking part - with soccer and rugby games also a part of the festival.
Topping it all off are vendors of Celtic crafts and products, demonstrations of traditional Scottish domestic and farming skills as well as workshops on topics such as genealogy and clan/family history.
The Big Wullie story
The story of Big Wullie is a mystery, and it's likely that those trying to research the mascot will hear the various stories and adventures of his life - but which ones are true? Just like Scottish culture, Big Wullie's character is powerful. All the stories are believable, but they're not all true.
So, what is Big Wullie's real story? According to the video released by Scotfest below, Big Wullie Wallace was born in Auchtermuchty, Fife, Scotland. His mother and father were the owners of a local pub.
After coming to America a few years ago and working some odd jobs, Big Wullie became the official Scotfest mascot and has done a fantastic job. So far he's been out in the community promoting the festival's 14th annual event.
An official Facebook post from Scotfest Oklahoma said: "Some say he swam the Atlantic Ocean on Nessie, invented the boot scootin boogie dance, has watched Braveheart 1,314 times and that there's a harbour in Russia named after him, all we know is, he's called Big Wullie!"
Who knows the real adventures that Big Wullie has been up to, but with his debut at Scotfest Oklahoma coming up fast on September 13-15 2019 - maybe someone will find out?
Want your very own brand mascot?
Organizations and businesses all over the world use brand mascots to drive their marketing strategies, encouraging fans and customers to buy into their brand stories, increase engagement, create loyal brand followers and improve revenue opportunities.
Does your organization want to tap into the many benefits that come with mascot marketing? Perfect, you have come to the right place!
BAM Mascots has more than 35 years' experience in the creation of high-quality, durable, professional mascot costumes that will transform your brand's marketing strategy. Not only that, but we are highly skilled in creating mascot costumes for all types of organizations, from consumer-facing businesses, business-to-business firms, sports clubs, charity organizations and many more.
Get in touch with our team of experts today, and find out how we can create a brand mascot that will perfectly tell your brand's story.