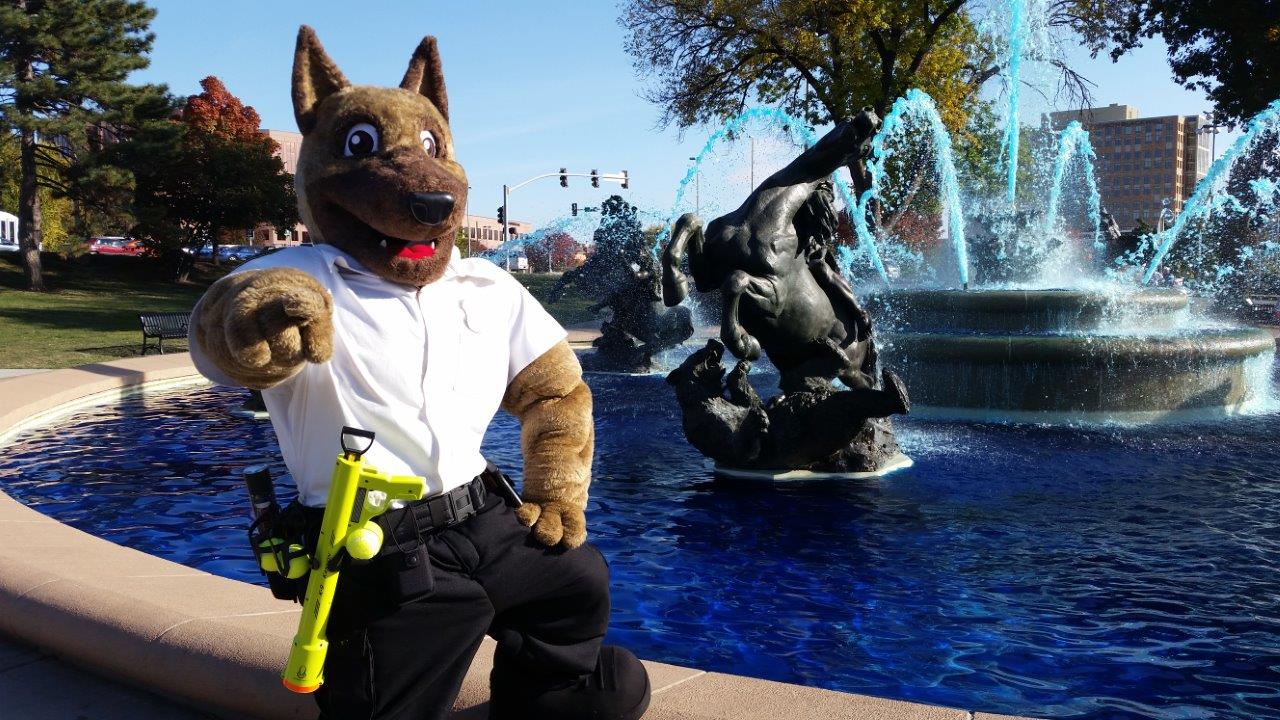 One custom mascot in Kansas City is helping to teach both adults and children to be safe by attending fundraising events as well as holding his own structured programs on stranger safety at childcare facilities.
Ruger the Watchdog is the official mascot of Taps KC, a private law enforcement organization based out of Kansas City. Taps KC helps to keep the local community safe with their private officers, who all receive nationally recognized training in the usage of tools such as: OC spray, police baton, handcuffs, defence tactics, less than lethal, CEW's (controlled electronic weapons) and duty weapon.
Ruger is described as a highly-trained K9 German Shepherd, who stands at 80 inches tall and wears official K9 uniform complete with a badge, cargo pants, boots and fun duty gear.
As part of their mascot marketing and outreach program, the organization chose a dog design so Ruger would become best friends with their audience and those within the community which the organization helps on a daily basis.
The mascot has become a notable icon in the Kansas City area, taking part in sporting events, birthday parties, public events, parades, fairs, conventions, openings and even often attends school days. Ruger is always on hand to pose for photos and high-five children.
Performing for all ages across Kansas City, the mascot is renowned for holding his own programs that teach children about public safety.
How does Ruger teach children to be safe?
To help teach children about safety in Kansas City, Ruger holds his very own BARK program classes which are all about teaching kids to be both stranger and gun safe. The program teaches kids to always be alert - "Ears up and alert like a K9" is one of his mottos.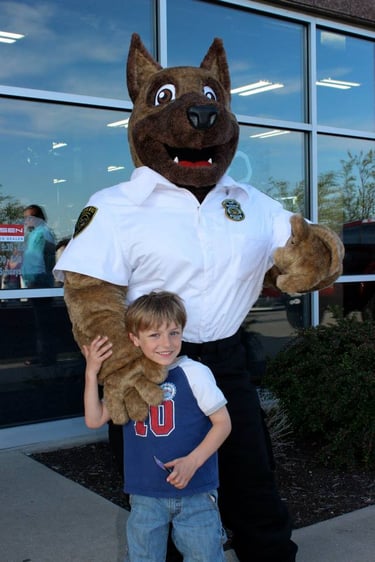 Along with his own team of "Special Agents", Ruger teaches children the safety basics of utilizing safety zones, the buddy system, being alert and aware of their surroundings, when to run to a safe place or adult, and how to kick and be loud.
Through this program, children enjoy a fun, well-organized conference-style powerpoint presentation, complete a workbook and participate in themed activities and games.
Children who participate receive a customized "I will Bark" rubber bracelet, certificate of achievement, interaction with kid special agents, photo opportunity with Ruger and his special agents and the BARK Briefing 101 workbook.
The importance of community-based mascots
By attending events within the community, your organization has a great opportunity to showcase your mascot and spread the word about what you do. Not only that, but by becoming a part of your local community, your mascot will be able to improve engagement with key audiences.
Both adults and children alike will gravitate towards your mascot, and they will soon be seeking them out at future community events - hoping for a high-five, hug or photo opportunity.
Want to learn more about custom mascots? Contact BAM Mascots today and find out how we make world-class mascots that improve engagement with your intended audience.