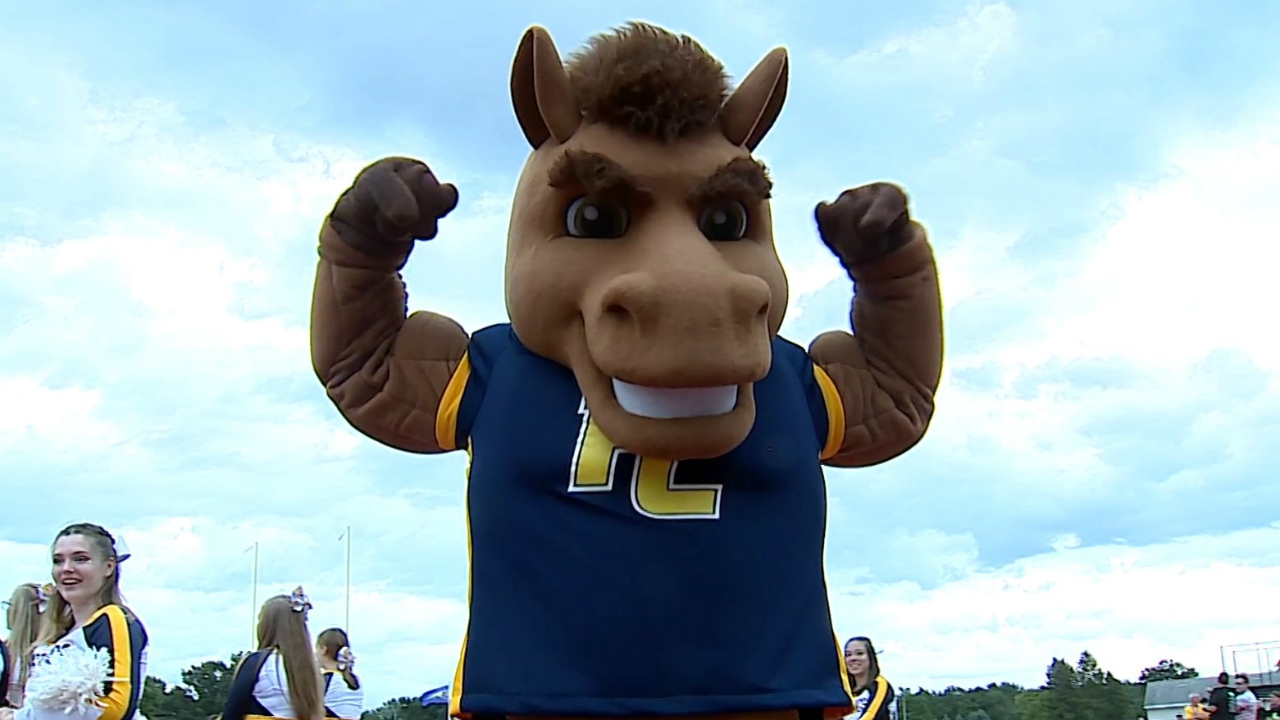 Portage Central High School, based in Portage, Michigan, has announced the introduction of its brand new custom mascot - Maverick the Mustang.
Designed to represent a mustang (a free-roaming horse of the Western United States), Maverick was created by BAM Mascots as a revamp of the school's existing mascot and has been made to specifically get fans into the school spirit at sporting events.
Who is Maverick?
The idea to revamp Portage Central High School's previous mascot came from the members of the student council a few years ago, according to an article from Wood TV - a television station that serves the Grand Rapids and Michigan area.
The school's Assistant Principal, Jason Frink, told the TV station: "We wanted to make it a collegiate style mascot where he has more of a specific character [that is] recognizable, doing a lot more interaction with the crowd, the cheer team and the band," he explained.
Maverick, whose name was chosen after students held a contest to pick it, has been designed to look both strong and friendly to help engage and encourage the support of the students attending the school's sporting events.
What is Maverick's personality?
While Maverick has been specifically designed to look strong, he's also been created to look incredibly friendly - as that's the most prominent aspect of his personality. Maverick has joined the Portage Central High School cheerleader group and will play an important role in engaging fans at the school's sporting events.
In fact, the younger children at the school already love the mascot. Katie Eichstaedt, Cheer Coach at Portage Central High School, told Wood TV: "There are some kids that keep coming back because they think he's just the most amazing mustang in the world. He's happy. Just happy to be here, to be a part of this and have the privilege of starting something so amazing."
Maverick's personality has been developed with the area's most popular mascot - Western Michigan University's Buster Bronco.
Buster Bronco has helped train Maverick and develop his personality as "Buster Bronco's little brother". It still remains to be seen exactly what type of personality Maverick will develop, but we will certainly be keeping an eye on Portage Central High School's sporting events for the next few months to find out!
Here's why you should consider your very own sports mascot
Whether you are trying to engage and entertain your audience, intimidate the opposing team or bring joy to the entire event, your mascot is the face of your sporting organization. A mascot should embody the values and ideas that your sports team stands for.
It doesn't matter if you are a professional sports team, an amateur team, a school or a large-scale sporting event, the benefits you can realize from mascot marketing are huge. These benefits include:
Increase audience and fan engagement.
Enhance the atmosphere of your sporting event.
Create additional revenue streams through merchandise.
Increase awareness of your sporting team.
Boost media exposure.
Increase loyalty.
Build a family-friendly environment.
Provide non-stop entertainment for your fans and audience.
Are you looking for more information about how a custom mascot will improve the atmosphere and fan engagement at your sporting events? Contact BAM Mascots today, and learn how we can design a unique mascot specifically for your company.