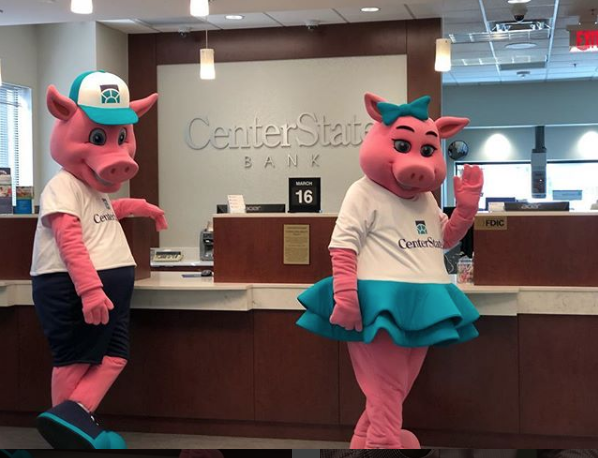 Benny and Penny are the two official mascots of CenterState Bank in Florida, and they have been created to showcase the company's strong belief in community spirit as well as help promote that local ownership and local management translates into a better bank.
The two custom mascots are helping to change the perceptions that consumers in the Florida region have of banks.
Who are CenterState Bank?
CenterState bank was first started by a group of bankers and entrepreneurs over 25 years ago, with three separate banks in the Polk, Osceola and Pasco counties. The company strives to offer superior service, while concentrating specifically on being community focused.
The bank's core values are strongly based on community spirit. In 2017, its employees volunteered thousands of hours to give back to their local communities, something the organization does each year.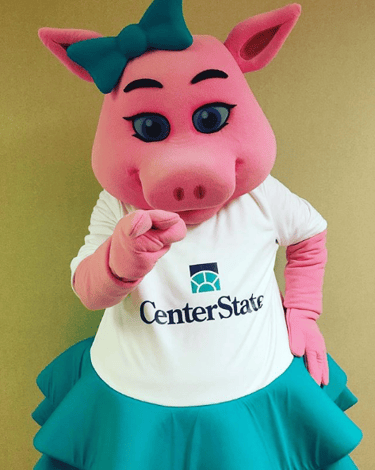 The bank participates annually in hundreds of events and activities, with some of the most recent including United Way, Meals on Wheels, and Habitat for Humanity.
It is their family-friendly and community-based approach that has made this bank so popular, and Benny and Penny have been a crucial aspect in their community appearances and mascot marketing strategy.
The pair have made numerous appearances at public and community events, such as the 15th annual Ringling Bridge Run. The aim is to engage with those in the Florida community and help provide a more enjoyable atmosphere, while at the same time boosting the brand's presence.
In fact, Penny even took part the popular #inmyfeelingschallenge on Instagram, dancing to the chart-topping song from Drake.
You can transform your marketing strategy too
Custom mascots are a great way to engage with your company's intended audience, and not only can they be marketed online over multiple platforms, but they can also be used to great effect at community events.
Your mascot will help to create lasting memories with those in attendance, and the photos, media and social media attention your mascot receives from those events will help you to promote your company even further.
The attendance of your mascot will help your organization to build strong connections with your current and potential audience, while at the same time increasing the public presence of your business.
How can BAM Mascots help?
Here at BAM Mascots we design high-quality, durable, professional mascot costumes for all types of companies - from banks to sports teams, schools and consumer-facing or B2B companies.
With more than 25 years in custom mascot design, as well as our expertise in concept to creation, the BAM Mascots team has a creative edge that not only brings your mascot to life but creates a mascot that's perfectly suited for your audience.
Want to learn more about our custom mascot creations? Contact BAM Mascots today.