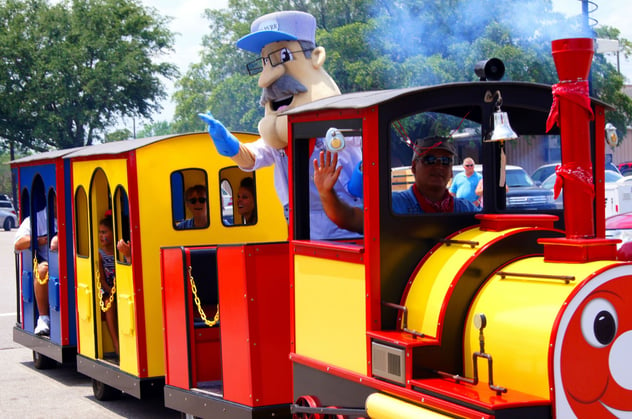 We have created
thousands of mascots
over the years, and each one has been unique - designed to meet our clients' specific needs and creative vision. Every time we create a new mascot, we consider ever detail, down to the very last stitch, to ensure our clients and their mascots will receive a high-performance mascot ready to win fans and win awards!
We love hearing mascot success stories, like the one about Rusty Rails, the award-winning mascot we designed for the city of Tomball, Texas. The good folks there recently passed on this press release about their mascot program.
TOMBALL MASCOT CONTINUES TO WIN AWARDS AND BRAND TOURISM PROGRAM
Just 28-miles northwest of Houston, the small town of
Tomball
has seen significant growth in the past few years. New shops, live music venues and award winning mom-and-pop restaurants in the old downtown district have made the city a destination for both local tourists and those from outside of southeast Texas.
A significant fun- factor in Tomball's ongoing growth has been the introduction of walk-around mascot Rusty Rails, the face of the City's tourism and festivals program. Since his arrival in a street-worthy locomotive during the Rails & Tails Mudbug Festival in 2012, the seven-foot-tall railroad engineer has become the visual image of Tomball.
Constructed by
BAM Mascots
of Mississauga, Ontario, Canada, Rusty Rails is symbolic of Tomball's longtime association with the railroad and the City's prosperity as a railroad town from the early 1900s.

Combined with the brand, "Tomball Texan For Fun!" ®, Rusty Rails continues to receive accolades at the state level from the festival and tourism industries. During the recent conference of the Texas Festivals & Events Association held in Fort Worth, Rusty was named the best festival mascot in Texas for the fifth time in six years. The City's continued use of the character in advertising and public relations efforts, in social media, at personal appearances and trade shows, on merchandise and, of course, at Tomball's ten city signature festivals throughout the year have made Rusty one of the most recognizable residents in the small Texas town.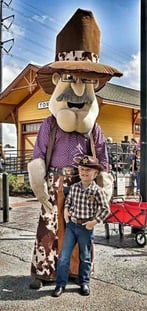 With a quick wardrobe change, Rusty today is able to become his identical twin cowboy cousin Dusty Trails. Sporting a custom made 50-gallon cowboy hat, chaps, vest and other western wear, Dusty Trails now makes appearances at several of Tomball's Texas themed events such as the Tomball Texas Music Festival and Sam Houston Trail Ride Reception. The versatility of the original mascot has given the City much more flexibility in its use and a strong return on the initial investment.
Like Clark Kent and Superman, Rusty Rails and Dusty Trails are never seen together, but their dual use during festival season continues to be a strong marketing tool and entertainment option on-site.
Tomball is just 28-miles northwest of downtown Houston on FM 2920 and State Highway 249. For more information, please call
281-351-5484
or visit
tomballtx.gov
. Follow Tomball on Facebook at "Tomball Texan For Fun". ®
If you are interested in creating your own custom mascot for community events and festivities,
contact us
today. We can't wait to bring you mascot vision to life!