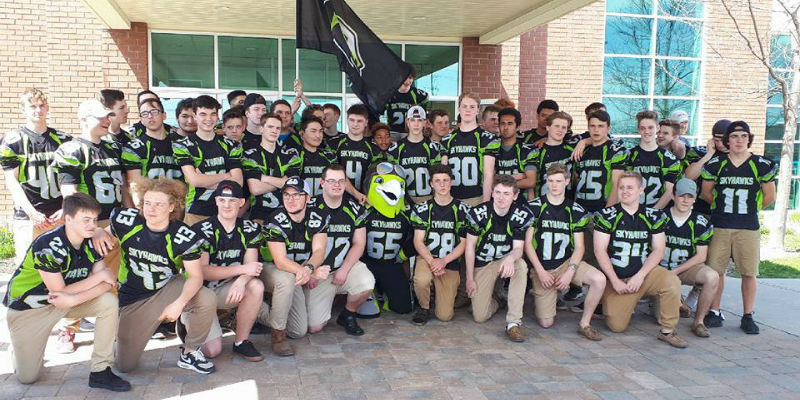 No Limits Football Club is no ordinary sports team. Set up by Peter and Brenda Gabriel , the No Limits Youth Organization was created in 2012 to offer opportunities that did not already exist in the Belleville, Ontario community.
Inspired by their own children and the shortfalls in the choices available, the organization became a non-profit corporation in November 2014. Just a couple of months later, in January 2015, No limits launched their football program with a winter camp. More than 50 children took part.
The program has now grown to over 115 athletes who take part in touch/flag football league. The OFA sanctioned the organization to bring Varsity Football to the Quinte region in October 30, 2017.
With the football club soaring to new heights, it's no wonder that No Limits chose a hawk for their mascot.
Rocky the Skyhawk was created to embody the core values of the No Limits organization, which include youth development and growth, hard work and commitment, leadership, sportsmanship, teamwork and, unity, and respect.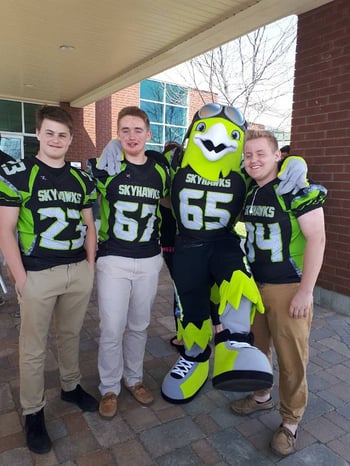 Rocky works with No Limit's Adapted Football program, which gives youth and adults with various types of disabilities the opportunity to participate in an organized and developmental sport that would otherwise be unavailable to them.
The primary focus for each player includes social interaction, physical exercise and skill development.
The aim of No Limits Football Club is to establish a positive environment of continuous improvement in developing the self esteem, personal growth, pride, character and well-being of all its athletes, coaches and volunteers.
There are always exciting things taking place at the Skyhawks Football Club. After a positive first season in Varsity Football, BAM Mascots is excited for what the future will bring!
Custom mascots have an instant appeal with both the team members of a sports team and their fans. They provide entertainment for fans, make the team more family-friendly, increase media presence, encourage more loyal and engaged fans and provide the opportunity for additional revenue.
BAM mascots designs high quality, durable, professional mascot costumes for all types of sports team, from amateur to professional - and many other types of companies and organizations.
Want to learn more about our mascot designs? Contact us today!