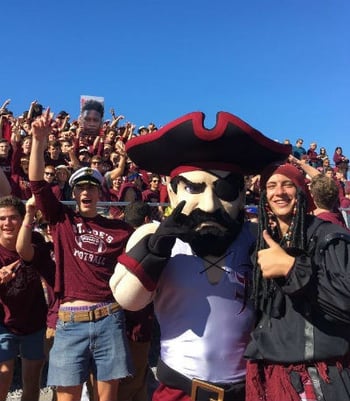 St. Joseph's Collegiate Institute (Buffalo, New York) was founded by six De La Salle Christian Brothers in 1861 to provide education to local youth. Since then, the school has grown into an independent Roman Catholic College, educating over 700 young men in grades 9-12.
St. Joseph's offers a prestige academic program to its students, one they can definitely take pride in. Academics, however, is not their only strong suit. St. Joseph's offers an award winning athletic program, with 18 different sports and 41 student teams.
Who best to lead these championship teams than a unique school mascot? A mainstay in St. Joseph's cheering section is the Masked Marauder, but after decades of performing and interacting with students, it was time for a complete make-over of the mascot costume.
BAM Mascots designed and created the new Mr. Marauder giving him a fresh updated look, with bright colours, large 3-corner hat, and a facial expression set to intimidate the opposing teams.
Meet the Masked Marauder, St. Joseph's new and improved mascot.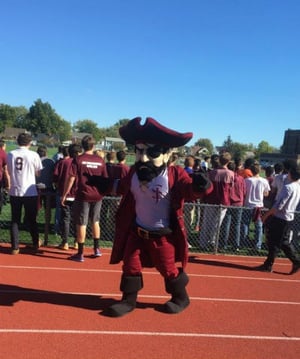 BAM Mascots was delighted to work with the folks at St. Joseph's to create their new mascot. The mascot was revealed during a recent pep rally before one of their football games. The school community gave the new Masked Marauder a warm welcome, captured in the video below.
Using a pep rally to launch a new mascot is a great idea. The energy, enthusiasm, and build-up during the pep rally will ensure lots of excitement when your mascot takes the stage and students see it for the big reveal. Make sure your mascot's performer is ready with broad characteristic gestures and a practised routine.
If your mascot has been performing for decades like St. Joseph's mascot, you might be ready for a mascot make-over. Perhaps your school never had a mascot but you are interested in finding out more about custom designing one? BAM Mascots will work with you to design the mascot of your dreams and bring your vision to life. We'll teach you how to properly care for the mascot costume and provide tips on how you can make your mascot part of your school's family.
Your students and faculty will love showing it off at events and sports tournaments around your community.
Here are some benefits a mascot could bring to your school:
increased engagement, spirit, and pride
recognition in the community
promotion of your school's goals & values
The BAM Mascots team blends creativity with manufacturing excellence to create an innovative, high-quality mascot for your school, team or organization. With more than 25 years experience in mascot design and manufacturing, and hundreds of mascots in our portfolio, the BAM team has the knowledge and skills to bring your dream mascot to life. Contact us today at 1-877-858-4226 to get started!