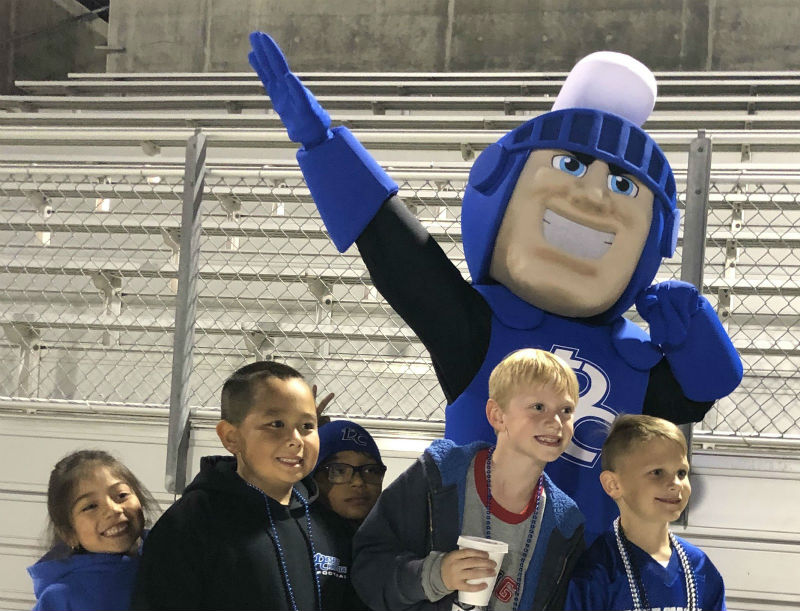 Desert Christian High School was delighted to recently announce the launch of its brand-new custom mascot, D.C. the Knight.
D.C. the Knight's big reveal came at the school's fall homecoming football game, where he was delivered to the field in a security golf cart. As the mascot entered the field, the crowd erupted in cheers and applause to welcome his new reign.
In fact, it was a fantastic start for D.C. the Knight. After his introduction to those in attendance, Desert Christian High School went on to win the football game over their unbeaten and highly-ranked opponent.
When the school received their mascot, they were so pleased with it that they wrote us a lovely thank you email. In the email to BAM Mascots, Brian Roseborough, School Administrator at Desert Christian High School, said: "I wanted to say thank you for the professional and expert job on providing our mascot. He is already a big hit on our campuses.
"Bringing to life our vision of what we wanted in a mascot was nothing short of spectacular. Thank you all for your hard work. We know our new mascot will provide years of enjoyment to our fans and families."
What is the Desert Christian School?
For over 40 years, Desert Christian School in Lancaster, California, has been delivering an excellent Christian education experience to children across preschool, elementary, middle school and high school age levels.
Desert Christian School aims to challenge children to do their best, as they develop academically, socially, and spiritually.
D.C. the Knight will represent the school's 1,100 students across its four various locations - enhancing the school's Christian education experience for children and youth in the Antelope Valley.
Does your organization want its very own brand mascot?
Whether you are the owner of a small business, the CEO of a not-for-profit charity, the manager of a sports team or the principle of a school, mascot marketing can bring your organization a wide range of benefits.
A brand mascot with a fantastic backstory can improve brand engagement, enhance the atmosphere at sporting events, create additional revenue streams, improve media exposure, boost audience entertainment, drive fan loyalty and many other benefits.
Do these benefits sound like something your organization would want to tap into? Then contact BAM Mascots today.
With over 35 years' experience in creating high-quality, durable mascot costumes, we can partner with your organization to create the new face of your brand. Contact us today to find out how we can design a mascot that represents the unique characteristics of your brand.