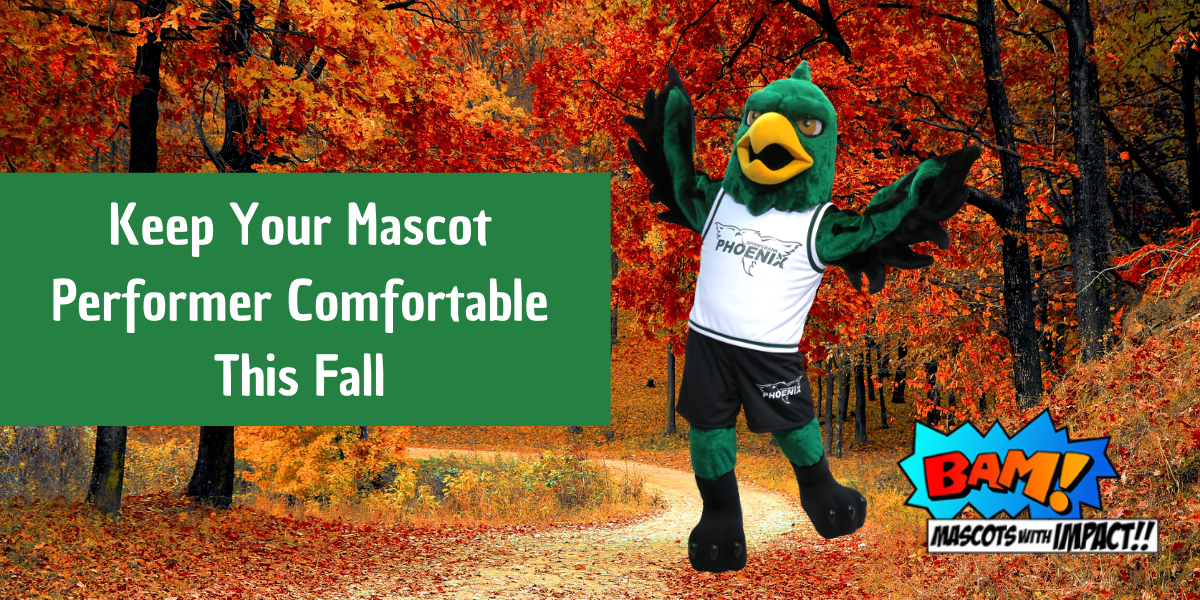 All the layers of fabric and material that make up mascot costumes can make them look deceptively warm, but when the temperature starts to drop, your performer may find themselves wishing they had come better prepared.
To help your performer maximize their performance and stay comfortable and warm … check out these 6 tips.
Clothes
When your mascot performer is getting ready to put on their mascot costume, you want to be sure they're wearing the right clothes.
If your performer perspires a bandana will keep moisture from their eyes.
Ideally, your mascot performer should wear lightweight clothes with sweat-wicking materials. This will keep your performer from feeling damp and will make movement far easier than bulky clothing. Cotton t-shirts and jeans just won't work. They'll hold the sweat and make your performer feel uncomfortable and fatigued.
Drink Up
Even when the weather is cold, our body needs water. While it may be harder to notice yourself getting dehydrated in colder weather, it's important to stay hydrated so that you stay healthy, alert and active.
Make sure that your performer takes regular breaks and drinks plenty of water throughout an event. Dehydration can cause …
Blurred vision
Exhaustion
Serious headaches
Fainting
Your performer may have to call it a day if they experience these symptoms. Staying hydrated keeps them at peak performance throughout the event.
Warm Up Then Suit Up
If your performer starts off warm before suiting up, it'll be easier for them to stay warm.
Getting into the suit before they've had a chance to warm up can make it more difficult to regulate temperature. How about implementing a stretching and warm up routine to be done before dressing for the performance?
Take A Break
It's important that your mascot performer takes some downtime periodically. Highly active mascots required to perform with bursts of energy and physical exertion should take a 5-minute break every 15-20 minutes.
This doesn't mean they have to be out of the view of the fans. These breaks can be restful but also allow for key activities such as staged poses, or pictures with fans. The key is to stop your mascot from sweating and overexerting themselves, because this can make them colder and chilled.
Test It Out
If you're a performer and are worried that you won't be comfortable, take out the mascot costume a day or so before the big event in similar weather and see how you feel.
The dress rehearsal will make sure you've selected the right base layer clothing and you can make any needed adjustments before the big day.
Pick The Right Design
The best thing you can do for your mascot performer is to purchase a high-quality, high-performance costume.
Your mascot performer is meant to have a good time doing their job, entertaining your fans. Making sure they are comfortable while working in a range of typical weather conditions is important.
If you are looking for a mascot costume that is well constructed, top quality, and fully customized to your needs, get in touch with us today! We'd be happy to answer any questions you may have.