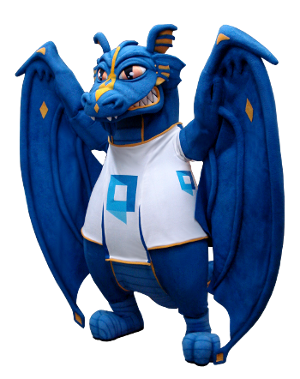 It will soon be Halloween - the biggest costume night of the year, and the night when all kinds of strange and wonderful creatures make an appearance. In keeping with the spirit of the time, I thought I'd share with you one of our monster mascots – The Quinsigamond Community College Wyvern.
Mascots can be modelled after animals, characters, objects, people, and fantasy creatures, monsters or any other subject your imagination can conjure. Traditional Halloween monsters are often based on old legends made into horror films, and so the usual line-up includes; Frankenstein, the Mummy, Werewolf, Dracula.
Monsters that are chosen to represent a school, sports team or brand, however, are often based on mythical creatures like dragons or on imaginary comic figures, designed to entertain and make people smile. Monsters are not all scary and frightening - some are just whimsical and fun!
There are many mythical monsters, with ancient origins - some became heraldic symbols and others found their way into medieval manuscripts. People have always had a fascination with strange creatures - both frightening, noble, and bold.
Another aspect of choosing a mascot is the association that the creature has with your organization. Does it represent a virtue or skill that is important to your brand identity? When mascots become part of the graphic design of a logo, many organizations clearly define why that creature was chosen and how it represents their team in a branding document.
Quinsigamond Community College in Worcester, MA, has chosen a Wyvern for a logo and a mascot. A Wyvern is traditionally imagined as a winged dragon, but with only 2 legs and no arms. Since the Wyvern has no arms, per se, the mascot's large wings are used to gesture and provide balance for the performer. It is a very ancient symbol in heraldry, and was thought to be used by the Anglo-Saxon royalty of Wessex on their war banners.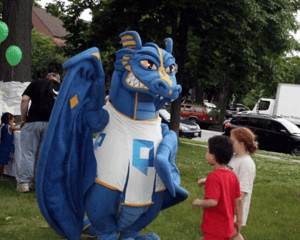 The Quinsigamond Community College website has a page about their Wyvern mascot and how it represents them.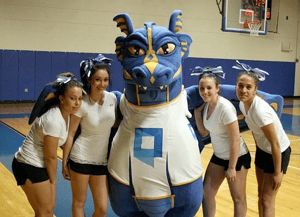 "The Wyvern is a mythical, winged dragon that was viewed as the ancient protector of Worcestershire, England. As the Wyvern protected Worcestershire, England, QCC protects Worcester, MA. The Wyvern is fierce, loyal, intelligent, strong and resourceful - a symbol for community guardianship as educator..."
We were pleased and tremendously proud to design and create the Wyvern mascot for Quinsigamond Community College. The College serves over 13,000 students, and their mascot is kept busy at sporting and community events.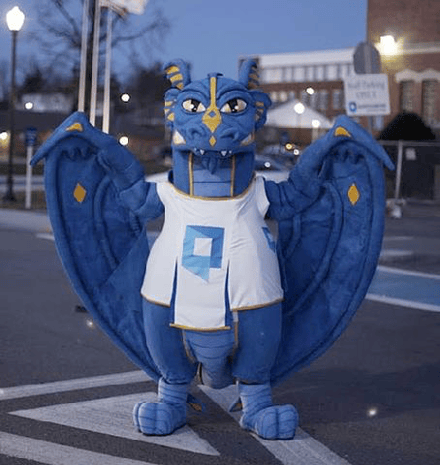 If you have a design idea for a 'monstrous' mascot, please fill out our quote form and we will be more than happy to contact you and discuss the details of your project with you.