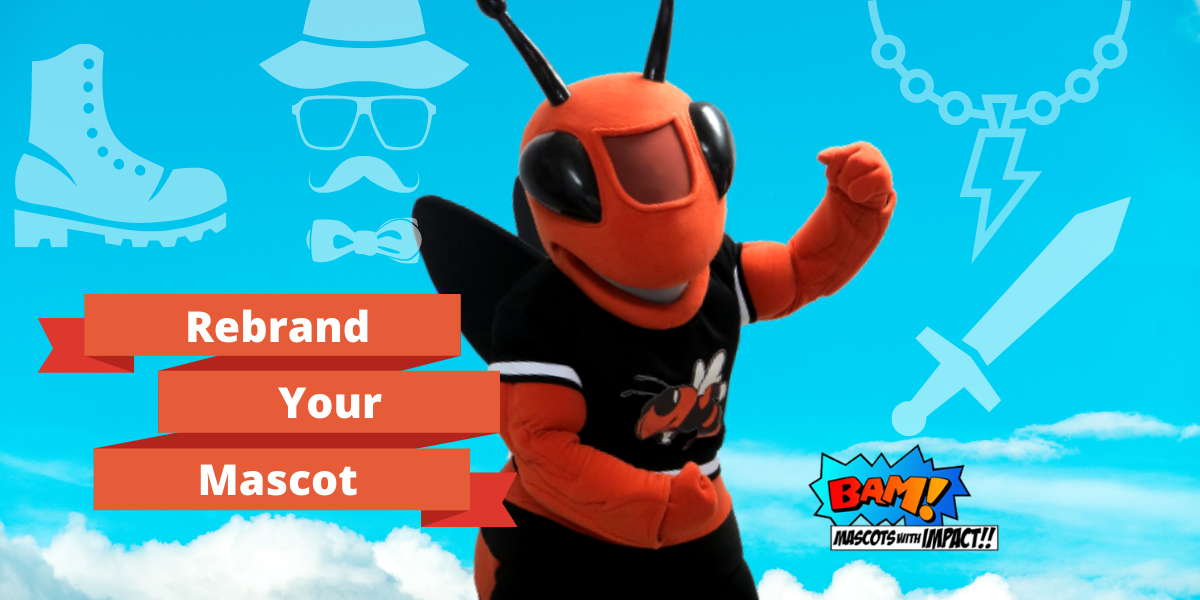 Mascots can become cultural icons. As a visual representation of an event, a fictional or real character, a logo, or a brand - they can become deeply entrenched in the experiences of the audience. In the case of sports teams, for example, where the relationship with fans can run through several generations, you can understand that the mascot's look and personality can be difficult to change. A new version of an old mascot can sometimes cause debate among loyal fans.
There are many reasons why rebranding or renewing your mascot is the right choice. Cultural symbols may have changed and the mascot might not fit with social norms. In that case, retiring a mascot and launching a brand-new character could be the right choice. On the other hand, your mascot might just need a refresh - a redesigned head / expression, or new clothing and accessories.
It's important to think about the goals of rebranding before you decide on what your project will entail.
1 - Building a New Brand Character
If your goal is to replace your mascot with a new character, then you can start at 'square one' in the process. What audience do you need to reach and what type of character would appeal to them? How do you want that character to behave and interact with fans? Likely there are attributes of your previous mascot's personality that your fans liked and you can use in your new one. Or perhaps the new mascot is for a totally different purpose and you really don't need any connection at all. In any case, it is helpful to make a list of personality traits, types of appearances, and audience demographics to help your designer come up with some amazing ideas.
2- Change Your Mascot's Personality
Brands evolve all the time. If your company has been around for a while, your mascot may portray a brand personality that no longer represents your company. It may be because your company expanded their audience, shifted their message, became more casual (or professional) or needed to change with the times. Whatever the reason, updating your mascot's personality is a good way to update their image.
Before you change your mascot's personality, make sure you understand your brand's personality. Figure out a backstory that works with your new identity. With small changes, you can just adjust the way your mascot acts or moves. If the changes are dramatic, you may need to come up with a reason behind the change. Imagine what could have happened in your mascot's "life" that would cause the shift and write a story. Once you have settled on something that works, use social media, video and blogs to share that story and your mascot's new personality in fun and creative ways.
For example, let's say your company is now more community oriented. Get your mascot out into the community to visit local businesses and organizations. If you've started a new program to show that you're socially responsible get them to interact with team members who are part of the new initiative. It could be that your rough and touch sports mascot has a soft side for volunteering.
3- Update Your Mascot's Look
Another way to update and rebrand your mascot is with accessories, clothing and props.
Maybe you updated your logo or brand colours. If that's the case, consider changing your mascot's costume with accessories like a custom-made branded hat, scarf or shirt that can show off your new design. You can even have custom jerseys made if you plan on sponsoring a local team, competition or festival.
Accessories can also go a long way when it comes to updating the look and changing the personality of your mascot. Eyeglasses can be used to make your mascot look more professional or studious, and sunglasses will convey a laid-back casual attitude. If you want your mascot to be more active, try custom-made running shoes or a piece of sporting equipment.
Props can also help project your character's personality. A briefcase for a business mascot or sports equipment for a team mascot. The options are endless – swords, shield, purses, tools, pets … anything you can imagine is possible. When they are crafted with the right proportions and using complimentary fabrics that fit with your mascot's costume, then they look professional and fit the act.
If you need help rebranding your mascot or creating a new mascot costume - contact us today. At BAM, we're the creators of high performance professional mascot characters and will custom design additional props or accessories to fit new or older mascots too.