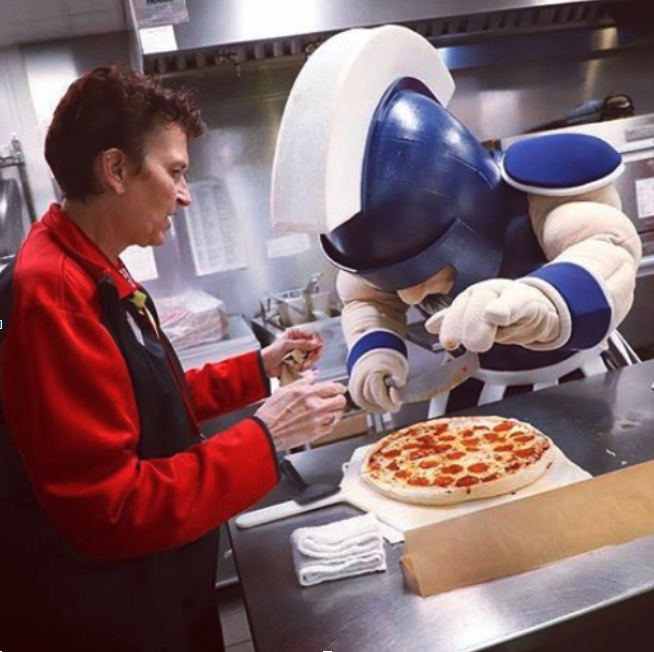 In this time of restricted or limited public events, mascots can still maintain a strong positive connection to fans using social media. While fans wait in anticipation for the opening of schools and future sporting events, they are looking for ways to feel part of their community and enjoy some lighthearted entertainment.
If your mascot doesn't have its own social media account on Instagram, Facebook or Twitter, you are missing out on an opportunity to virtually engage your audience and get your message across. Those with a social account should consider a periodic check-up, looking at engagement rates and content reach to see if posts are sparking interest.
Mascots have become hugely popular on social media, especially Instagram - where mascot photos with tongue-in-cheek captions are highly shared and engaged with. The juxtaposition of a comic mascot character in an ordinary surrounding doing human activities, is a type of humour that is relatable, fits a campus audience, and gets a lot of attention.
Here are three tips that will get you thinking about how to improve your mascot's social media content.
Tip #1 - Behind the Scenes Content
If you've been focused on posting photos and videos during games or events, consider expanding the type of content you post to introduce the other side of your mascot's personality. Fans want to see what a mascot gets up to during their downtime: chilling with friends, getting ready for work, partying, sleeping, exercising, shopping, 'almost' anything a human would do. Think of imaginative twists that will surprise your followers. For example, if your mascot is aggressive on-the-field, off-the-field they could have a different disposition and enjoy something opposite like knitting or watching Disney movies.
Tip #2 - Random Fails
Maybe your mascot's personality needs a few flaws or fears? Sure, they might be a pumped-up superhero, but are they afraid of something? Cats? Spiders? Showing your mascot's weakness can be a funny way of making them more real. Maybe they are uncoordinated playing sports, but always pick themselves up and carry on? You can have a lot of fun with this - just make sure that any pranks that go wrong are always done with safety in mind.
Tip #3 - Put a Spin on Meet-and-Greet
Mascots are a magnet for selfies, but it's time to get creative and find other opportunities. Your mascot could go on a mission to take selfies with town landmarks, signs, statues/art installations, and even 'real' animals. A canine mascot could visit a dog park and a bird mascot could feed seagulls. Or, maybe your mascot does good deeds on the sly, and you catch the act of kindness on a quick video.
Mascots are created to entertain and delight their fans, and while face-to-face engagements are at the core of a mascot's performance repertoire, virtual interactions using social media are an additional performance channel to reach audiences and have some fun.
Interested in getting a mascot character custom designed for your school, sports teams or business? We make high performance, professional quality mascot costumes at our location in Canada, and ship around the world!