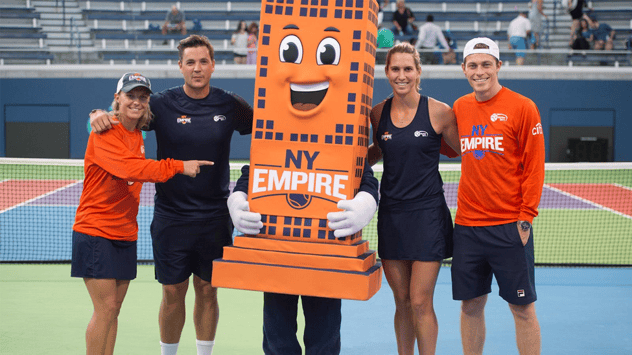 When you think of a mascot, you might think of few different things, maybe a bear, or a knight but you probably don't think of a tennis playing building…
Meet Hudson, The NY Empire's Tennis Playing Mascot.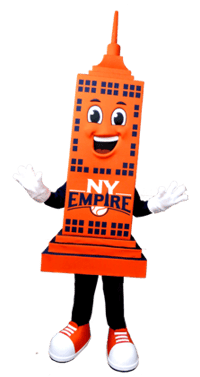 New York Empire are a tennis team founded in 2016, and play their home matches at USTA Billie Jean King National Tennis Center in Queens, New York City, NY.
The New York Empire team is coached by 2 x US Olympic Gold Medalist Gigi Fernández and features tennis players from the Canadian Eugenie Bouchard, to the American Mardy Fish, to the British born Neal Skupski.
New York Empire are one of 6 teams who compete in the Mylan World TeamTennis tournament. World TeamTennis (WTT) is currently in its 42nd season and is the leader in professional team tennis competitions.
Hudson, the tennis playing mascot, boasts a 3.5 NTRP (National Tennis Rating Program) which is a scale of 1-7 to describe player levels, defined by the U.S. Tennis Association. He's got some work to do to keep up with the rest of the team! Don't believe us? Check out the video below of Hudson in action.
Hudson is planning on improving his game and having "no days off". He's going to be supporting the players, hitting the courts and staying the #1 fan of the New York Empires.
Mascots come in all shapes and sizes, and can be objects, animals, people, products, anything you can think of that can help your company, team or brand!
Every mascot we bring to life is completely customizable and based on your individual specifications. No matter the type of mascot you choose, from animal mascots, to brand mascots, to sports teams, your mascot will create instant memories that last a lifetime.
At BAM! Mascots we can help you from concept to creation with our expert team of staff making sure we create exactly what you envisioned! To get in touch to discuss your mascot idea click the below button. We look forward to hearing from you!
Photo credit : Rob Loud