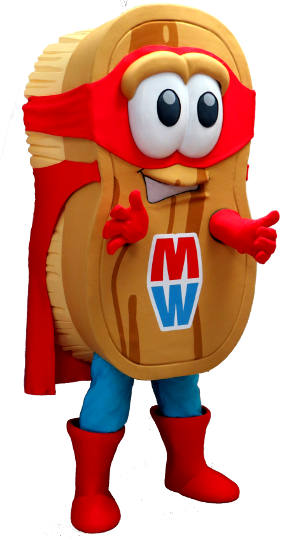 It's really exciting when your carefully packaged mascot arrives at your door and someone puts it on for the first time. The colours are vibrant, the fabrics are brand new - it is in perfect condition. But mascots must come out of storage on a regular basis and go out into the world - sometimes fine weather turns to rain, there is wind and puddles, and mud, and ice-cream cone hugs..
To keep your mascot looking spectacular, you'll need to routinely remove dust, dirt and light stains and ensure it is kept dry when in storage. Proper cleaning and storage can extend the lifetime of your mascot dramatically! To help you with that, we provide maintenance and care instructions with every new mascot we ship. We create a mascot manual specific to your mascot costume, taking into consideration the different fabrics, materials and components. The manual will be emailed to you so that you'll know from the beginning any special care or storage requirements that apply.
Although each costume comes with specific care instructions, here are some general recommendations for looking after mascot costumes.
Cleaning Your Mascot Heads and Shoes: When your mascot's head or shoes require cleaning (to remove light stains), it is strongly recommended to use a professional cleaning service to ensure the best results and to protect your mascot investment from damage. If you would like to tackle light marks/ stains on your own, carefully brush off any dried residue and apply a small amount of diluted liquid detergent to the stain. Using a soft brush or damp sponge (do not use steel brushes, as these will destroy the fabric), gently dab the marked area. Use a clean cloth to soak up the moisture by pressing lightly on the surface. If in doubt, take your mascot costume to a cleaner and get professional advice.
Cleaning the Clothing: In general, most mascots' gloves, shirt, inner and outer body are machine washable, though you should consult your Care & Maintenance manual to be certain. We strongly recommend using a professional cleaning service to ensure the best results. Be sure to disassemble the component pieces of the body prior to cleaning. If you do not have the costume professionally cleaned, be sure to wash using a gentle cycle, in cold water, and allow to hang/air dry. Do not use a dryer to dry the body of your mascot. We recommend that you use a washing machine with no central agitator because of the damage an agitator could cause.
Air it Out: Your mascot may have been out in the rain, or was very active and it needs to be aired out after each performance. The head should be wiped out with a dry cloth to remove any perspiration that has accumulated during the performance. A gentle, non-liquid freshener or deodorizer can be used to refresh the interior of the head. Remember - don't put clothes damp with sweat into the carry bag. This could cause mildew and the colors of your character to bleed onto other parts of the costume. 

Repairs Over time: Your mascot may wear due to age and use, and require repair to maintain its pristine appearance. Minor repairs can be facilitated at your discretion (seams splits, minor tears etc.) but we would be happy to provide complex repairs such as foam tears or eye damage. Just contact us and let us know what type of repairs or refurbishing is needed and we'll provide a quote for the service.