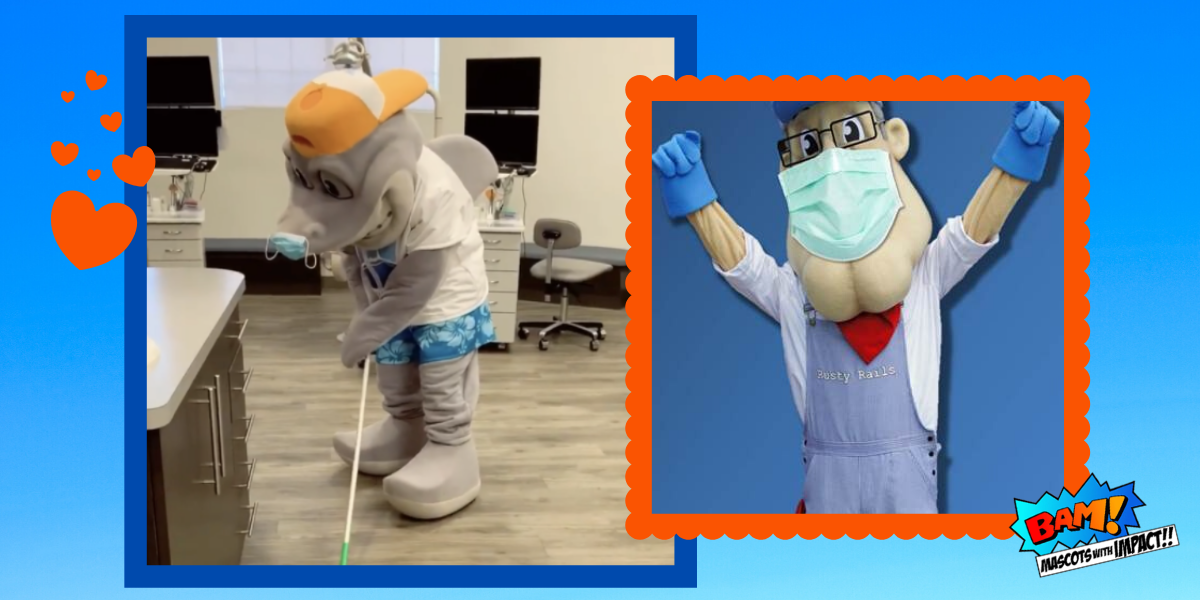 With physical distancing, events with large gatherings halted and work-from-home policies becoming widespread across North America, it's more than likely that your organization's mascot marketing outreach strategy has been on the backburner in recent months.
This doesn't have to be the case. In fact, your custom mascot can be a great tool in sending your staff, students, employees and customers handy and insightful tips about the proper protocols needed to protect them from getting sick - as well as helping to spread good cheer during difficult times.
Your mascot is an incredible tool for boosting revenue, improving fan engagement, increasing brand exposure, showcasing your organization's story and much more, but it can also be used to help improve the lives of your stakeholders too.
Here's a look at how some mascots have been used to promote better healthcare and wellbeing in 2020
Organizations have used mascots in creative ways throughout the COVID-19 pandemic, from promoting better ways to protect yourself from getting sick, praising essential workers for the jobs that they are doing and helping those in their community to stay positive. Here are just some of the creative ways mascots have been used in recent months.
Quinn the Quarantine Fox
In April, the United States Consumer Product Safety Commission - which is charged with protecting buyers from the dangers of household items, issuing recalls and teaching people how to avoid common, life-threatening emergencies - announced it was launching Quinn the Quarantine Fox.
The mascot was created as a public service announcement in a bid to attract, inform and persuade people to take action based on the commission's recommendations.
As published by PR Week, Joe Martyak, Director of Communications for the Consumer Product Safety Commission, said: "He has helped us inform people about these safety tips so they can avoid injuries and going to the emergency room. That is helping our healthcare heroes because it is lightening the load they have to deal with."
A message from college sport mascots
College sports mascots are typically rivals, created to portray the competitive, passionate and loyal feelings of their fans and the college's student base. Earlier this year, however, they came together to deliver a message of support to those in the college community.
The video, organized by Montclair State University grad student Daniel Waffenfeld as reported by Yahoo News, contains 20 different mascots from colleges across the United States. These include Bloomfield College's Deacon (which was created by BAM Mascots), Montclair's mascot Rocky the Red Hawk, Aubie the Tiger from Auburn and Roc the Panther from the University of Pittsburgh.
The mascots encourage students across the colleges to remain indoors and stay safe, as well as to reach out to friends when needed.
Showing appreciation for essential workers!
In Canada, Vancouver Canucks mascot Fin has been cheering on hospital workers and cheering up children within the Vancouver community - while at the same time ensuring physical distancing of course.
As reported by the Daily Hive, Fin has been touring hospitals in Vancouver giving stick taps for healthcare workers with a sign that says "thank you". Fin has so far surprised six hospitals as well as Canuck Place Children's Hospice, with more visits yet to come.
Sending positivity to those in isolation
Meanwhile in Ontario, the mascot of junior ice hockey team Peterborough Petes, Roger, has been taken to the streets of his hometown to provide drive-by greetings for those in the community celebrating birthdays or milestones while in quarantine.
In a bid to come up with creative ways to celebrate people's birthdays and other milestones while in self-isolation, Roger has been providing drive-by greetings to those who can't celebrate with their family and friends. The Peterborough Examiner reported that Roger took part in seven such celebrations on one day alone.
How can you use your organization's mascot to spread good cheer?
Mascot marketing is all about building relationships with your community. By using your mascot to spread good cheer - whether it be giving your audience helpful hints and tips to keep them safe, encouraging them to stay positive or spreading the news of good deeds within your community - you will build an engaged following that is loyal to your organization.
The key to a successful mascot marketing campaign is creating a custom mascot that both speaks to your audience, and at the same time perfectly represents your brand's story. If you don't know where to start, contact BAM Mascots today. Our team of mascot design experts would love to work with you and answer any questions that you may have.