High School team mascots create a unique opportunity to unify your school's vision and increase school spirit; in fact, you rarely see a school without some form of mascot, be it digital or physical.
The benefits of a physical walk-about mascot are numerous.
School mascots
allow you to create a visual identity that represents your school's values and qualities. Most importantly, mascots increase student engagement, school spirit, and pride by setting the tone for your school's morale and by driving inclusivity.
Jackie Esposito, who wrote the widely successful book on Penn State's mascot, said,
"Mascots embody that desire to support your school and are a visual representation of what we believe to be the best parts of our school or organization".
One of our high school mascot creations is the knight for Independence High School in Frisco, Texas. A public high school in the city of Frisco, Collin county in the north east of the state of Texas. The school opened in the fall of 2014, with just shy of 2,000 students attending the 2014-2015 year.
By 2015, the school was rated 'Met Standard' by the Texas Education Agency based on various factors on the State of Texas Assessments of Academic Readiness (STAAR) test.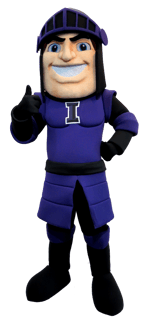 Their mascot, a knight, is the symbol for the high school's athletic teams, The Independence Knights, who compete in a variety of sports from basketball, to football, to soccer, to wrestling. Dressed in school colours, the mascot is ready to attract attention at events and get fans cheering.
Mascots play an integral role in school identity. Almost every school has one – a person, object or animal, that represents them and creates a lasting and memorable tradition evoking pride and spirit for years to come.
If you are ready to create your custom high school team mascot,
contact us
today! At BAM! Mascots we can help you from
concept to creation
with our expert team of staff making sure we create exactly what you envisioned! We look forward to hearing from you!