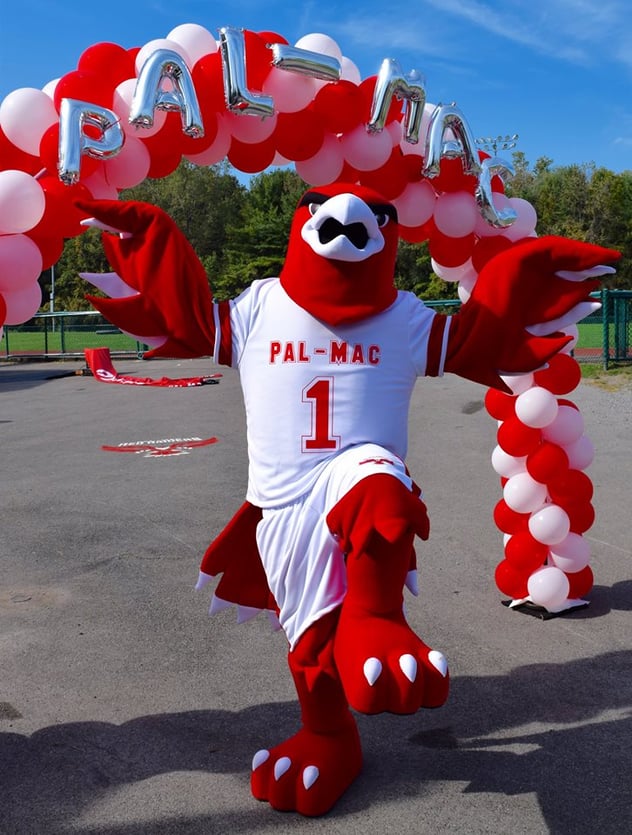 School spirit
is a pretty incredible thing – it promotes teamwork, it brings everyone together and it makes you feel like a part of a community.
Just recently, one of our clients shared some of their school spirit with us and we couldn't be more impressed.
Palmyra-Macedon Central School District is located in Wayne-County and consists of two elementary schools (primary and intermediate) and a District Campus with a Middle School and High School.
The perfect example of school spirit in action, Palmyra-Macedon Central School District kicked off their 2017 Spirit Week by bringing all of the schools together to create a music video of the students, teachers and their mascot rocking out to "Pal-Mac Love", an Uptown Funk inspired anthem.
You can check out their video here – we absolutely loved it!
The video was sent to us by the school, with a message about including their new mascot in this year's rally!
"Just wanted to let you know that our Red Raiders mascot costume looks great and has been well-received. One of the reasons we selected BAM! was that your finished costumes so closely matched their initial sketches, and ours is no exception. The costume was unveiled to students at a homecoming event in September."
The
Palmyra-Macedon
's new mascot is a Red and White Eagle wearing a Pal-Mac athletics uniform designed to resemble their team logo.
Introducing a mascot into their school community was an effective way for Palmyra-Macedon to bring their school spirit events to the next level. Mascots ramp up school spirit. They are entertaining, they engage students, and they are the ideal candidate to lead cheers, dances and other group activities.
Mascots can also communicate school values. They can help students who normally feel excluded get involved, and they can be used to bring attention to fundraisers and other school events.
Bring more excitement to your school's social events with a custom designed mascot.
Contact us
about your idea or to learn more about our "concept to creation" process.