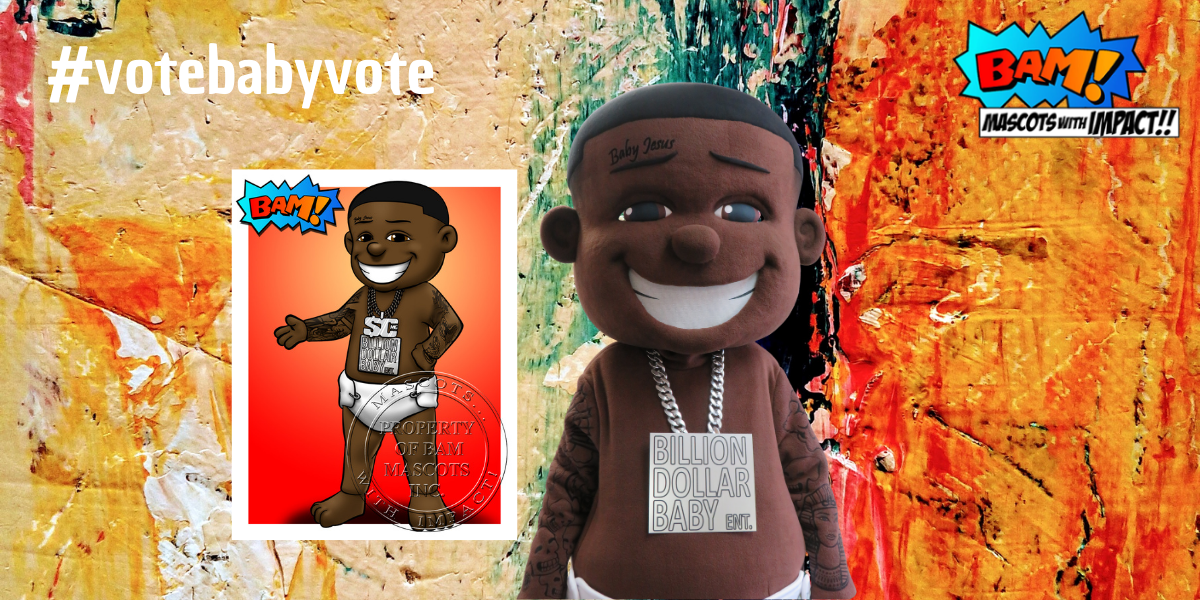 DaBaby - the Grammy-nominated American rapper, singer and songwriter from Charlotte, North Carolina - used his brand-new custom mascot character to encourage those across North Carolina to vote in the recent US election.
The initiative, known as VOTE BABY VOTE, included a social media program, statewide bus tour and a series of events during early voting to encourage people across North Carolina to get out and vote.
On election day, DaBaby visited polling stations in his hometown of Charlotte to give out free swag to those casting their votes. Attending the polling stations with him was his brand-new mascot character - Little Buddy.
You can see DaBaby and Little Buddy in action at polling stations at the video below.
---
---
Who is Little Buddy?
Little Buddy is a custom mascot character designed by BAM Mascots for DaBaby's entertainment company, Billion Dollar Baby Ent. With a design to look like a baby, Little Buddy was specifically built to enhance DaBaby's existing branding.
Alongside Little Buddy, BAM Mascots also created a second mascot costume. A water bottle mascot costume design was created to help emphasize the K20 water brand, which was founded by DJ K.i.D of Billion Dollar Baby Ent and backed by DaBaby himself.
Little Buddy has also made an appearance in DaBaby's new music video
Little Buddy has received a lot of attention recently, after appearing in the star's new music video which was first published in an Instagram post. In a video posted by DaBaby for his new single Practice, Little Buddy can be seen dancing.
Why your organization can benefit from its very own mascot
Whether you are the manager or owner of a small business, not-for-profit organization or a local sports team, custom mascot costumes are a fantastic way to enhance the profile of your brand.
There's a reason why a huge number of international brands use mascots as part of their mascot strategy, think the Michelin Man or Mickey Mouse by The Walt Disney Company. It's because they are highly effective at improving experiences for your audience.
Using a mascot costume to create a mascot marketing strategy can lead to benefits such as improved customer loyalty, an increase in media exposure, more engaged audiences, enhanced online presence, the addition of new revenue streams and much more.
Interested in learning more? BAM Mascots has more than 35 years' experience creating high-quality and durable mascot costumes that are designed for the unique needs and brand stories of our clients.
Our team of world-class mascot designers would love to work with your organization to build a custom-designed mascot costume. Contact us today. We can work with you during each step of the mascot build, from concept to creation.