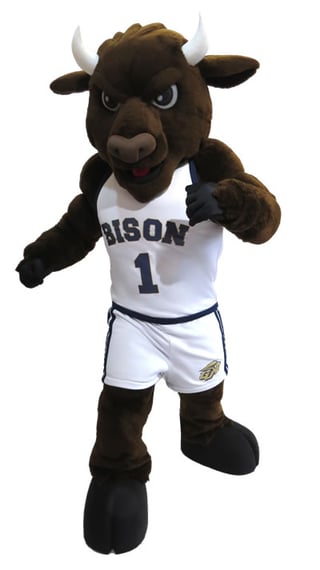 A little over a year ago, Gallaudet University's Athletics Department welcomed Gally, a new Bison mascot (created by our team at BAM! Mascots), to their school.
Gallaudet University, in Washington D.C., is a world leader in liberal education and career development for deaf and hard of hearing students. The school is officially bilingual, with American Sign Language and English used for instruction and by the college community.
When we created Gally, we knew he would be an active mascot. He would have an important role in Gallaudet University's Athletics programs.
From football, basketball, softball, to cheerleading - Gally needed to be agile to engage with the school's sports fans.
Gally the Bison had another important requirement. Instead of hooves, he needed to have movable fingers so that he could communicate with audiences using American Sign Language. Organizations often have special requirements for their mascots, and that's why it's important to know, that we are ready to design a mascot costume that provides the functionality you need.
It's great to see Gally in his role of ambassador for Gallaudet University - meeting staff and students - and getting in a few pictures. (pictured here: Gally mascot costume worn by Gary Brooks)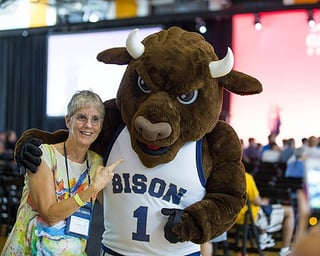 It looks like Gally has been working hard taking classes - here he is at the 2015 Convocation Ceremonies!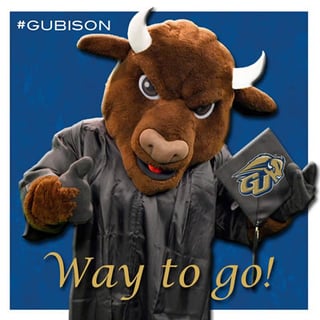 The BAM Mascots team blends creativity with manufacturing excellence to create an innovative, high-quality mascot for your school, team or organization. With more than 25 years experience in mascot design and manufacturing, and hundreds of mascots in our portfolio, the BAM team has the knowledge and skills to bring your dream mascot to life. Contact us today at 1-877-858-4226 to get started!