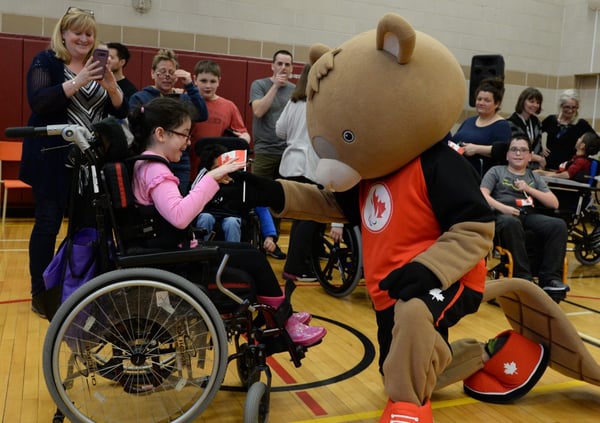 The Canadian Paralympic Committee has officially announced the launch of its brand-new team mascot, Coda the Beaver.
Built by BAM Mascots, Coda the Beaver was first introduced on Tuesday morning, March 10 2020, to a group of school children in Ottawa. On Coda's debut, he was joined by wheelchair basketball star Patrick Anderson, Canadian Paralympic Hall of Famer Karolina Wisniewska, and retired Paralympic swimmer Benoit Huot.
Coda the Beaver will become the biggest supporter and cheerleader of Canada's Paralympic athletes.
"We are excited to have a mascot who can represent Canada's Paralympian's and help share the joy of Para sport with others," commented Tony Walby, Chair of the Canadian Paralympic Athletes' Council.
"The beaver is a true emblem of Canada and is recognized worldwide and they have a lot of traits us Paralympian's can identify with. We're looking forward to having Coda cheer us on."
How was Coda the Beaver born?
After deciding that a new mascot was needed in 2019, the Canadian Paralympic Committee decided to ask the public for help. Canadian citizens were invited to select their choice between three potential mascots - a grolar bear (a mix between a grizzly and polar bear), a beaver or an arctic fox.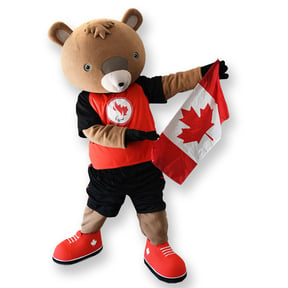 In addition, classrooms from schools across Canada were also asked to submit their opinions through a colouring contest.
The beaver received the largest share of the votes on the online poll.
After the beaver was chosen as the design of the mascot, Canada's Paralympic athletes were invited to submit potential names. The final choice was then approved by the athletes' council.
That's where Coda the Beaver was born.
Coda, whose design perfectly represents the identity of all of Canada, is named after a musical passage that extends a theme in a piece - giving it a sense of balance before bringing it to its conclusion. One could compare it to the journey that Paralympian's go on to achieve their success and joy. Coda is also a Latin word meaning 'tail'.
Coda the Beaver perfectly represents the values of Canada
As Canada's national animal, which can be found across the entire country in beautiful lakes and rivers, the mascot brings a sense of unity and identity to all Canadians. The beaver's perseverance through any situation is reflective of how hard our country's Paralympian's work to accomplish their goals of being the best athletes in the world.
Speaking about the mascot, Martin Richard, Executive Director of Communications and Brand at the Canadian Paralympic Committee, said: "The beaver is synonymous with Canadian culture and history and they definitely share their perseverance and hard-working attitude with our incredible Paralympian's.
"Having a mascot will help us to spread the Paralympic Movement and the power of Para sport to a larger audience while also elevating the sense of team and togetherness among our athletes."
Interested in your very own brand mascot?
Whether you are a small business owner, sports coach, manager of a not-for-profit charity or the principle of a school, implementing mascot marketing into your outreach strategy can help you realize a wide range of benefits.
The benefits of a custom mascot include everything from improved brand engagement, additional revenue streams, improved media exposure, deeper interaction with your audience, a better online presence and many others.
With more than 35 years' experience in the creation of high-quality, durable and professional mascot costumes, BAM Mascots can help your organization transform its marketing strategy with a brand mascot that perfectly represents your core values.
Are you looking for more information about brand mascots and how they can benefit your organization or business? Contact BAM Mascots today. Our team of experts would love to answer any questions that you may have.